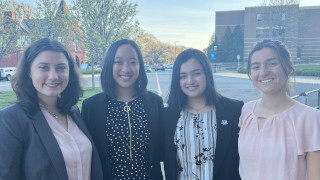 From left to right: Andrea Hebel, Jasmine De Leon, Shweta Parthasarathy, and Jackalyn Ballard
Diplomacy sophomores Andrea Hebel, Jasmine De Leon, Shweta Parthasarathy, and Jackalyn Ballard won a competition on March 28, 2022, put on by the Atlantic Council's New American Engagement Initiative. The objective of the competitors was to come up with campaigns on a policy issue to increase the general public's awareness. Undergraduate teams from schools including American University, George Mason University competed. Each team wrote a brief on the issue, and, as they advanced, developed both a memo and a mock social media campaign. The issue that Diplomacy's team tackled was public awareness of the military, focusing on improving knowledge and clarifying misconceptions.
They were paired with Professor Madison Schramm of the Army War College at Carlisle Barracks, Pennsylvania. The professor mentored the team as they prepared the project, providing incisive feedback that enabled the team to continue advancing. The team finally presented before a panel of judges in March and was selected as the winner. The Atlantic Council has awarded them $2,500 and will publish the work they have done over the past several months. The team will continue their work as they prepare for the publication of their project.
De Leon was the first to hear about the project, from both Diplomacy's Dr. Moeller and second year M.A. student Chimdi Chukwukere. Seizing the initiative, she contacted her Buccino Leadership Institute colleagues Hebel, Parthasarathy and classmate Ballard about working together, to which they agreed. The team began brainstorming and selected their topic based on their shared perception that the American public misunderstands important information about the military and its work. De Leon says that given the close relationship that diplomats often have with military professionals, the project was very relevant to their studies and interests. The team worked well together, respectfully disagreeing and finding compromise as needed. The success of this team is a testament to their hard work as well as the talent of the students, faculty, and administrators the School of Diplomacy has been fortunate to attract.
The Diplomacy community extends a well-earned congratulations to these four excellent students and looks forward to seeing their finished product.
Categories: Nation and World