A journey of a thousand miles begins with a single step. -- Chinese proverb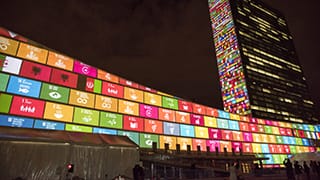 In September of 2015, the United Nations called on governments and businesses, not-for-profit organizations and ordinary citizens to help heal the planet. Countries adopted a set of 17 Global Goals aimed at ending poverty, protecting the earth and ensuring prosperity for everyone, and pledged to get there by 2030. To help do its part, The School of Diplomacy and International Relations established the UN Sustainable Development Goals Challenge in 2015, inviting students to imagine ways - big and small - of transforming our fragile world.
Now in its second year, the UN SDG Challenge attracted 252 applicants from around the globe. Over the last few months, proposals arrived from young problem solvers in Kenya, Bangladesh, South Korea, Texas, Michigan and Brazil. Students and young professionals representing 23 nations and 27 states stepped up with innovative proposals addressing the problems that concerned them most, including climate change, education, gender equality, and health. The UN SDG Challenge gave participants a platform for their ideas and a chance for seed funding, along with scholarships to attend Seton Hall University.
Watch a video of the UN SDG Challenge presentations »

Fr. Brian Muzás, assistant professor and director of the School of Diplomacy's Center for UN and Global Governance Studies, which organized the SDG Challenge, reflected on the impressiveness and quality of the entries that were received: "I was struck by how many of the undergraduate presentations highlighted what high school students were already doing in their communities to foster the SDGs, and many of the graduate proposals would make worthy dissertation projects. I look forward to watching these young students make their marks on the world."

From a stack of promising possibilities, 15 visionaries were selected to present their strategies - virtually, or in person -- at a day-long event at Seton Hall that took place on April 21. A panel of international affairs experts evaluated the proposals and selected the winners. They heard about the challenges many people face each day, such as food shortages brought about by climate change in Malawi, and severe overcrowding in schools in Cameroon, triggered, in part, by the country's move to offer free public education.
Patricia Zanini Graca, who dreams of one day working at the UN, traveled from Brazil to South Orange for an opportunity to share her plan for strengthening global cooperation as a way of achieving sustainable development. Another finalist, Sofia Calvo Castillo, zeroed in on the problem of air pollution that affects environmentally-conscious Costa Rica. Castillo, who lives in Summit, New Jersey, proposed developing hydrogen fuels cells to power vehicles and help reduce pollution. After finishing her presentation, a panelist asked how hydro-powered vehicles would get into the market. "Awareness building is important," Castillo declared. She acknowledged that weaning drivers off fossil fuels is difficult: "People need to know that there is an option."
Winning Ideas
Throughout the day, judges viewed PowerPoints and mulled over proposals. They listened intently to lively presentations delivered, through the magic of Skype, from classrooms and coffee shops a world away. They asked probing follow-up questions about implementation, evaluations and costs involved. And, by the end of the day, they had 4 winners selected.

Ann Lee, of Sammamish, Washington, captured 1st place for her earth-friendly initiative. Lee, a high school junior, remembered learning as a child about how warming temperatures were shrinking the habitat for polar bears. Moved by the plight of these "cute and cuddly animals," she dedicated herself to making a difference. "Climate change, "she told the audience, "is a human rights violation. We have a moral obligation to do something." Lee's wining proposal, entitled Schools Under 2c, aims to get students to reduce their own carbon footprint as a way of keeping the increase in the global temperature below 2 degrees Celsius.
Presenting her proposal via Skype from Lexington, Kentucky, where she was also attending a robotics competition, Lee demonstrated how her project incentivized the use public transportation, bikes and car pools by students at her school. A mobile app was developed to help teens track their carbon cutting progress. Ten schools in Washington, and two from Texas, have also gotten on board. "Our goal," Lee said, "is to form a passionate network across the world that shows that kids can have an impact on climate change."
After presenting her proposal, one of the judges asked Lee how Schools Under 2c going would continue after she graduated. Lee described her high school as environmentally engaged and said, confidently, that a plan was in place for passing the project along to underclassmen each year. Looking toward her next chapter, Lee added: "I would also like to continue a similar program in my own college and encourage other universities across the world to take action as well."
Grace Anderson, a high school student from Millstone, New Jersey, who participated in last year's SDG Challenge, returned with a plan for solar-powered irrigation systems. She took 2nd place in the undergraduate group. Anderson, who interned with an NGO focusing on water projects in the developing world, championed a method of bringing low-cost irrigation to 160 farmers in villages in Malawi, where climate extremes of flooding and draught are intensifying. Rising temperatures coupled with rapid population growth, "has all the makings of an ecological, country-wide catastrophe," Anderson told the judges. Her idea would involve local farmers in project design and development. It addresses several UN Global Goals aimed at creating jobs, reducing food insecurity and cutting poverty.
This year's SDG Challenge was also open to current college students and young professionals. Alexander James Miller, a senior at the University of Michigan, took first place for a proposal to bring HIV/AIDs education and treatment to the LGBT community in sub-Saharan Africa, where homosexuality is often illegal, and, in some countries, is punishable by death. High-risk groups in the ostracized LGBT community, Miller explained, are forced to conceal their identities, and often do not know their HIV status or how to protect themselves and their partners from infection. Miller, who spent five years living in southern Africa, modeled his idea on a health clinic in Botswana where he volunteered. He proposed setting up health centers that could provide better access to medical services for people who are HIV-positive, promote education about HIV, and encourage tolerance of the LBGT community. Judges acknowledged the difficulty of the inclusion aspect of Miller's project in areas where there are hostile policies directed at homosexuals. Miller said he thought it was best to start by targeting young people who are often more open to the LGBT community and to seeing LBGT rights as human rights.
The 2nd place winner in the college-age group presented via Skype from the University of Yaounde, in Soa, Cameroon. Ngong Justin Chee, who woke up in the middle of the night to learn that he'd won the competition, discussed the challenges to quality education in Cameroon. Public schools, he explained, have an extremely high student/teacher ratio of 100:1. The government's decision in 2000 to move toward free public education in the country, he said, has not been met with additional basic resources, such as textbooks, and transportation for students who live a long distance from school. Educators and students must grapple with poor infrastructure and limited supplies. Chee's idea for addressing the problem is to establish a National Volunteer Council to support teachers in the classroom and develop a virtual library which he hopes would help increase literacy rates from 81% to 96% over the next ten years. "Cameroon," Chee declared, "needs something to believe in. Volunteerism is an opportunity to address a problem in our schools."

At the conclusion of the program, Andrea Bartoli, dean of the School of Diplomacy congratulated the students for taking on such serious questions and looking for answers. "Tonite," he said, "we are starting something. We are moving toward sustainable goals that must be addressed, that must be accomplished."
The winners and finalists in the School of Diplomacy's 2017 UN Sustain Development Goals Challenge -
Winners
Anne Lee, Sammamish, WA - 1st place/Undergraduate Competition
Grace Anderson, Millstone, NJ - 2nd place/Undergraduate Competition
Alexander James Miller (Ann Arbor, MI) 1st place/Graduate Competition
Ngong Justin Chee (Yaounde, Centre) 2nd place/Graduate Competition
Patricia Zanini Graca, Curitiba, Parana, Brazil Honorable Mention/Graduate Competition

Finalists
Karen Lu, Cooper City, FL
Tinayeishe Elohim Nota, Chitungwiza, Zimbabwe
Jeramie Paz, Griffin, GA
Jemimah Emily Rajack, Fairfax, VA
Caroline Hadley McCutcheon Copeland, Dallas, TX
Sofia Calvo Castillo, Summit, NJ
Sierra Kennard, Falls Church, VA
Andrea Grman, Vienna, Austria
Categories: Nation and World , Research
---
UN SDG Challenge 2017