Thursday, December 17, 2020
Aligned with its Diversity, Equity, Inclusion and Justice Initiative, the School of Diplomacy and International Relations has recently launched a unique partnership with the Newark Board of Education to support and assist with programming and curriculum development for the newly opened Newark School of Global Studies.
The Newark School of Global Studies is a magnet high school that offers students a path to study international relations and international business. The academic experience provides an international perspective through a broad set of classes that include language specializations in Arabic or Mandarin, internship opportunities, and study abroad experiences. All students will be required to take Introduction to International Relations, with the first cohort starting this spring. Students also have the opportunity to take International Conflict and Security and Ethnopolitical Landscapes. These college credit courses are designed in conjunction with School of Diplomacy faculty and offered through Seton Hall's Project Acceleration. This fall the students attended four lectures conducted by Diplomacy graduate students: Islam, France & Women; Opportunities in Asia; Becoming a Young Leader in Foreign & Security Policy and Research on Nigeria's Public Education in a post-COVID world. The students will continue to attend monthly academic lectures and will receive mentorship from Diplomacy alumni.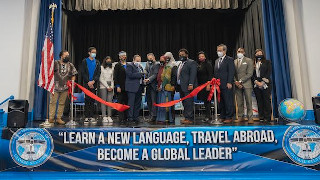 The School of Global Studies was created as part of the Newark Board of Education's "Schools of the Future" Initiative. The School opened in the fall of 2020 to a cohort of 114. The School's partnership was spearheaded by Newark native and College of Education and Human Services doctoral candidate, Kyle Younger, who also coordinated similar programs for the School of Diplomacy through Project Acceleration and the Donald M. Payne, Sr. Global Foundation. 
Younger said of the program, "I am thrilled to see that my hometown will benefit from this partnership that has the potential to introduce Newark high school students to coursework and careers that provide a global perspective."  
The Inaugural Ribbon Cutting Ceremony on October 28 brought together state and local leaders and representatives of the School of Diplomacy, including Ursula Sanjamino, Ed.D., Associate Dean, and alumnus Troy L. Dorch, Jr., M.A. '19, who are spearheading the partnership on behalf of the School.
Speaking virtually at the Ribbon Cutting Ceremony, Dean Sanjamino addressed the incoming class of 2024. She said of the School's relationship with Seton Hall University, "We have common goals, to educate and prepare young people on global issues. To prepare them to be leaders in an increasingly interconnected world."
Troy Dorch serves as a liaison between the School of Diplomacy and the School of Global Studies. He is currently serving as a curriculum advisor, mentor and adjunct instructor. "As long as I can remember, the main goal of mine was to help expand the world of International Relations and Diplomacy to communities of color. By being here…I feel like I am actively working towards that."
About the School of Diplomacy and International Relations:
The School of Diplomacy and International Relations is an affiliate member of the Association of Professional Schools of International Affairs (APSIA). The School is a graduate consortium member of Public Policy and International Affairs (PPIA), which promotes the inclusion and full participation and leadership of underrepresented groups in public service and throughout our civic institutions serving domestic and international affairs. In addition, the School is a member of the Global Access Pipeline (GAP), which advocates for underrepresented individuals to achieve leadership positions in international affairs across governmental, non-profit, and private sectors in the United States.
With nearly 40 percent of our undergraduates identifying as students of color, Seton Hall is committed to diversity, equity and inclusion, championing and establishing networks for underrepresented groups. The University serves as a home for the mind, heart and spirit, encouraging servant leadership in a global society, showing the world What Great Minds Can Do.
Categories: Education , Nation and World