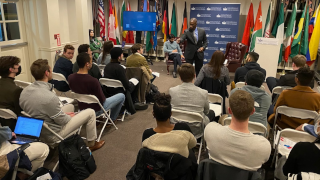 Admiral Hayes speaks to students about Ukraine.
On February 24th, Diplomacy community members were treated to an important discussion led by retired naval intelligence officer, Rear Admiral Norman Hayes, about the crisis in Ukraine. The event was sponsored by the International Law Society (ILS) and the Graduate Diplomacy Council, with moderation provided by ILS President and M.A. candidate, Ahmad Choudhary. Given that the Russian invasion had begun in the early morning hours of that day, Admiral Hayes' talk was well timed. Hayes' role as former Director of Intelligence for European Command, leading all Department of Defense intelligence personnel in Europe, gave him the opportunity to travel across Europe working with different American partners. He was heavily involved in policy making, working in tandem with military and diplomatic personnel to promote and defend American interests in the continent.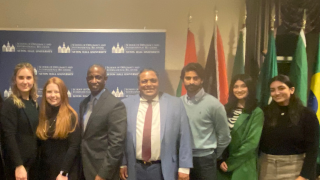 Admiral Hayes poses with moderator Ahmad Choudhury, Prof. P.L. da Silva and student leaders.
During the talk, Admiral Hayes offered trenchant insight into how the United States and its allies might achieve a favorable resolution to this predicament. He talked about the policy development process and how to mold a successful response to the invasion, also discussing the importance for those aligned with Ukraine to understand their opponents' preferences and how they may be influenced towards a different course of action. He cited specific examples from his career in which he had to manage teams and interface with other managers to achieve his objectives and what that taught him about high stakes scenarios like the current one. Hayes discussed his broader naval career and what he learned from it, passing on these lessons to the audience. He emphasized that policymakers and others involved must look forward and not backwards, that we cannot relive yesterday, and that success will be determined by what we do today to prepare for the next few years. He offered extensive praise for the work that diplomats do in solving problems and encouraged the students present to continue their studies and working towards their career goals.
After 31 years of service, Admiral Hayes retired in 2013, and went on to work as an executive in two cybersecurity companies and is currently an adjunct professor in George Washington University's cybersecurity program. He holds a Bachelor of Science from Indiana University, Bloomington and Master of Arts from the Marine Corps Command and Staff College.
Categories: Nation and World