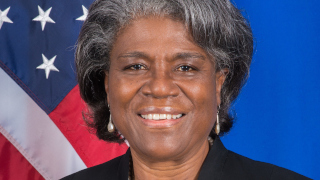 Ambassador Linda Thomas-Greenfield
The School of Diplomacy continues to expand its reputation for hosting exciting and engaging World Leaders this Spring with speaker events featuring Nobel Peace Prize Laureate Leymah Gbowee and U.S. Ambassador to the United Nations Linda Thomas-Greenfield. Ambassador Thomas-Greenfield's visit will mark the School's first in-person World Leaders Forum Event since 2019. The School's Diversity, Equity, Inclusion and Justice Coalition is proud to welcome these influential guests as part of its initiative to bring diverse international affairs leaders to campus.
On April 7, Madam Gbowee drew on her experiences in a talk focusing on UN Resolution 1325 on women, peace, and security and the implications of its implementation. Gbowee grew up in Liberia and was 17 at the start of the civil war that ravaged the country. She helped found the Women in Peacebuilding Network of the West Africa Network for Peacebuilding and became the coordinator for Liberia.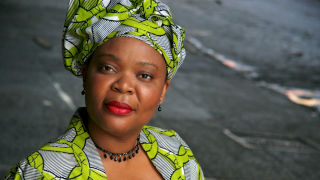 Nobel Peace Prize Laureate Leymah Gbowee
Gbowee spearheaded a joint effort between Christian and Muslim women called Women of Liberia Mass Action for Peace. Her hard work and sacrifices paid off when she led a delegation of women to Accra to pressure President Charles Taylor and rebel warlords to reach a peace agreement, with Taylor resigning weeks later and a treaty being signed. This event was sponsored by the Center for Peace and Conflict Studies, Ms. Rajaa Altalli, Diplomacy's Sergio Vieira de Mello Fellow, the United Nations Association of the USA, and the Institute for Inclusive Security. Welcome remarks were given by Ambassador Swanee Hunt, Chair of the Institute for Inclusive Security, former Ambassador to Austria who chairs the Washington-based Institute for Inclusive Security (including the Women Waging Peace Network) which advocates integrating women into peace processes.
We look forward to the interesting dialogues these events they will generate on campus.
On April 12, Ambassador Thomas-Greenfield will take part in a fireside chat, answering questions from students, about the U.S.'s current agenda at the United Nations, and diversity within diplomacy and international affairs careers and gender equity. Thomas-Greenfield spent 35 years in the Foreign Service and retired in 2017, serving as Assistant Secretary of State for African Affairs between 2013 and 2017. She was also Director General of the Foreign Service and Director of Human Resources between 2012 and 2013. Before these culminating assignments, she was Ambassador to Liberia and held postings in Switzerland, Pakistan, Kenya, The Gambia, and Jamaica.
Ambassador Thomas-Greenfield Talk: April 12th, 11:00 p.m.-12:00 p.m. in-person in Bethany Hall. Register Here.
Categories: Nation and World