Thursday, August 29, 2019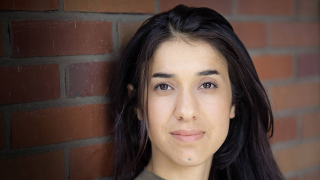 On Friday, Sept. 27, 2019, Nobel laureate Nadia Murad will speak at the 2019 Forum on Modern Slavery.
On Friday, Sept. 27, 2019, the School of Diplomacy and International Relations, together with the Slave Free Community Project, the New Jersey Coalition Against Human Trafficking and the International Justice Project, will host the 2019 Forum on Modern Slavery.
Nobel Peace Prize winner Nadia Murad will receive an honorary degree and deliver closing remarks for the Forum. Murad, a member of the Yazidi ethnic and religious minority group, was born into a farming family in Kojo, Iraq. When Murad was 19 years old the Islamic State, commonly known as ISIS, attacked her village and killed 600 Yazidi men, including several of her family members. ISIS took Murad and other Yazidi women prisoner and subjected them to physical and sexual abuse. After three months in captivity, Murad escaped to a refugee camp before moving to Germany.
Murad is now an advocate for awareness about sexual violence and genocide of the Yazidi people under ISIS. In 2018, Murad shared the Nobel Peace Prize for her advocacy. Murad received the Václav Havel Human Rights Prize from the Council of Europe, which recognizes "outstanding civil society action in defence of human rights." In 2016, the United Nations named Murad the first-ever Goodwill Ambassador for the Dignity of Survivors of Human Trafficking. She is a frequent speaker on the topic of sexual violence and slavery as tools of war.
"Ms. Murad's courage is inspiring, and it is an honor to welcome her to Seton Hall," said Elizabeth Halpin, associate dean at the School of Diplomacy and International Relations. "Despite the unimaginable trauma she endured, she has managed to shed light on the suffering of others, whose stories are often kept in the shadows."
An estimated 25 million people are trapped in the sex trade and in other forms of forced labor around the globe. The goal of the 2019 forum is to bring awareness to the issue of modern slavery and discuss 21st-century solutions to the crisis. Experts on human trafficking and the use of slavery as a tool of war will discuss the facts of this crisis and foster discussions to find a solution. The day-long conference will examine relevant topics including the current status of modern slavery in the U.S., slavery as an instrument of armed conflict, the impact of the UN Sustainable Development Goal 8.7 on slavery and how to combat slavery with education, visual media and current technology.
"Modern slavery exists around the globe, in the United States, and in New Jersey," said Bob Boneberg, coordinator of the Slave-Free Community Project. "At the Forum, experts will discuss not only the nature and extent of modern slavery, but also how individuals, communities and governments can work together to end slavery in our lifetimes." 
Register for the conference here.
Categories: Nation and World