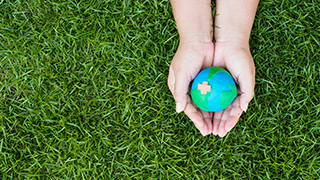 Spring break admittedly looked a little different this year. Cruise ships are docked, beaches are closed, and flights are grounded. Thankfully, with a little creativity, that hasn't stopped the School of Diplomacy from virtually bringing students to Geneva and building new programs along the way.  
As a result of a recent Memorandum of Understanding, Diplomacy students, alumni, and young professionals preparing for graduate school have been learning directly from the United Nations Institute for Training and Research (UNITAR) over the last few weeks. Traditionally offered as a training program designed for new UN staff and diplomats, this behind the scenes opportunity was originally planned as one of the School's immersive international study seminars. When the outbreak of COVID-19 threatened to cancel the program, the two institutions remained dedicated to their initial goals — offering a unique educational experience with benefits for all participants, regardless of their career goals.  
"Our collaboration with UNITAR," reflects Dean Courtney Smith, "is giving our students access to the same training that is provided to newly appointed United Nations staff members and member state delegates. This will allow them to build on the knowledge and skills of their School of Diplomacy experience and prepare them to be diplomatic professionals ready to meet the challenges of addressing global problems cooperatively."
Ms. Silvia Vacchi of UNITAR's Division of Multilateral Diplomacy is equally enthusiastic and forward looking. "At UNITAR," says Vacchi, "students remain a central focus of our work as they largely represent the current and future generations who will be operating in our societies and use the tools of Diplomacy to conduct work in their respective sectors." 
"This is why," she continues, 
UNITAR is particularly grateful for the partnership with Seton Hall's School of Diplomacy and International Relations: I truly believe that the synergies that exist between our Division for Multilateral Diplomacy and the highly passionate and motivated students who are attending the course are remarkable. My hope is that these students will benefit greatly from having access to knowledge and skills which are normally only reserved for practitioners, and I am certain that our Institute will benefit from spreading this knowledge outside of the "elite" of diplomats and other insiders to achieve the higher goal of engaging stakeholders from all professional, personal, and other backgrounds.
Over the course of four weeks, students will participate in workshops on protocol and etiquette at the United Nations (UN), types and functions of multilateral conferences, cultural and public diplomacy, and negotiation and decision-making through four online modules. As a complement to their online training, participants have the opportunity to hear from additional practitioners and UNITAR officials through a series of weekly webinars on topics such as the Sustainable Development Goals and career development. 
Participants will also learn from each other by utilizing discussion forums to not only reflect on their coursework but to relate it to their personal experiences. Upon completion of the four modules, each student will earn an official Certificate of Participation signed by the head of UNITAR, Mr. Nikhil Seth, whose career with the UN spans over 20 years. 
"I think that this program is really great," notes undergraduate student Jarrett Dang, "especially because it allows us to interact directly with experts in international relations." Dang says that he was inspired to participate because he has been working as an intern at the U.S. Mission to the United Nations, located across the street from UNHQ. "Having the opportunity to attend some meetings and events at the UN has been a great privilege," he says, "and I wanted more. I was excited to gain an inside the UN perspective." 
Dang views the material as particularly relevant for all students of Diplomacy, because of its strong applicability. "The course touches upon crucial aspects of diplomacy that can be applied anywhere," he asserts. "Personally, I hope to apply this knowledge in other internships and throughout my career, whether I pursue work with the U.S. government, the UN system, or at an NGO." 
For those who were energized by their UNITAR training experience, were disappointed to miss it or the cultural aspects in country, fear not - further opportunities for Diplomacy students to study in Geneva lie ahead. Another exciting new partnership, this one with The Graduate Institute of International and Development Studies lays the groundwork for a 5-year B.S./M.A. program offered jointly with the Institute.
"Our new B.S./M.A. program with the Graduate Institute," says Smith,  "will allow our students to have the best of both worlds. They get to benefit from an undergraduate education located in close proximity to the UN headquarters in New York City and the experience of graduate study in the heart of the UN's social and humanitarian work in Geneva. This combination will prepare them well for their future international careers."
While in Geneva, Diplomacy students will have the opportunity to live on campus with peers from over 100 countries and enjoy activities like water sports, skiing, museums, and more while pursuing their studies. They will be encouraged to connect through a variety of student organizations, such as Geneva International Model United Nations or the Environmental Committee, all of which fall under the Graduate Institute Student Association. Between practitioner dialogues, alumni panels, and professional development workshops, students will have access to a variety of career enhancement experiences outside the classroom. 
Upon completion of the program, students will earn a bachelor's degree from Seton Hall and a master's degree from the Graduate Institute. Similar to the School of Diplomacy's existing 5-year B.S./M.A. program, students will apply for admission to this new program in the fall of their junior year. Program participants spend the fall of their senior year pursuing both undergraduate and graduate studies in Geneva at the Graduate Institute. These credits earned abroad apply towards both the completion of their undergraduate program at Seton Hall and also their graduate program at the Graduate Institute. Students return to Seton Hall in the spring to finish their senior year and then spend all of their fifth year in Geneva. 
Smith notes that students don't have long to wait for this program to become a reality. "We hope to begin accepting applications in the fall of 2020," he says, "and send our first cohort to Geneva in fall 2021. It promises to be an excellent program, and we couldn't be more excited to get started." 
Learn more about the School of Diplomacy's 5-year B.S./M.A., undergraduate and graduate programs. 
Categories: Nation and World