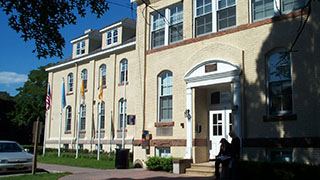 The School of Diplomacy is thrilled to announce the new Diplomacy Alumni Association (DAA) Board members for the 2021-2023 term. Every two years, new members offer their time, talents and professional experience to provide leadership and direction for Diplomacy Alumni Association initiatives. Board members are selected by the alumni of the School of Diplomacy to serve the School by strengthening the Diplomacy community through networking, social events and experiential learning opportunities for fellow alumni and current students, as well as assist with recruitment and fundraising efforts, playing a vital role in the continued success of the School of Diplomacy.
The new executive board members include:
President: Colin Hart '10
Treasurer: Kim Davey, M.A. '06
Communications Chairs: Sarah Valero, M.A. '16 and Katie Landes, M.A. '19
Development Officer: Morgan Mount '18
Secretary: Angelo Piro '16/M.A. '19
New York City Metro Representative: Troy Dorch, M.A. '19
D.C. Representative: Chris Kisco, M.A. '06
International Representative: Nancy Elbassiouny, M.A. '09
In addition, at-large members also dedicate their time and experience to the Board, assisting with special projects and serving on committees. At-Large members include Damian Bednarz, Margaret Dougherty, Dalai Fazio, Tameka Harris, Sam Matino, Michelle Perez, Freedom-Kai Phillips, Ericka Rodas, Bjorn Schwarzenbach, and Craig Witmer.
All of these Board members bring a wide range of professional skills and experiences, from Vice President of Crisis & Issues at FleishmanHillard, Colin Hart, to Public Affairs Manager for KPM Group D.C., Katie Landes, to Samford University Associate Professor, Kim Davey, to U.S. State Department Trade Policy Officer, Chris Kisco.
DAA President, Colin Hart, accepted his role in order to "Give back to the alumni of the School, promote the School to potential students and future alumni, and work with the School to develop new and engaging programs." Board members such as Morgan Mount, having served as president of the Student Alumni Association during her time as an undergraduate, return to continue the great work they began as students. The School of Diplomacy is excited for the DAA Board to continue to increase engagement among the School's community of alumni and students as we look to enter a post-COVID era.
Categories: Alumni , Nation and World