Monday, February 28, 2022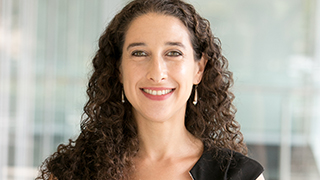 To combat international affairs education's track record of myopia when it comes to diversity, equity and inclusion, the School of Diplomacy has launched three new courses that will be taught at the undergraduate and graduate level addressing issues including race and international law, race and gender in international affairs and race and religion in international affairs. Historically, non-white, and other non-conforming stakeholders have not had their voices heard in matters that affect them. In a welcome move, the School has developed these three courses that seek to expand the inclusion of race in thinking about our world's problems. There is certainly a demand for this content, as a second section had to be added to one of the courses because of its popularity.
In graduate level Religion, Race, and International Relations (DIPL 6350), Professor Brian Muzás is fostering a dialogue on the role of religion and race in history and international relations, from both theoretical and practical standpoints. Professor Muzás is an ordained Catholic Priest, and he brings the unique perspective of a clergyman and Seton Hall's Catholic mission to the topic. This course is designed to be available online as well as in person.
Diplomacy M.A. student Shaye Ciccarone says,
"It is important for any area of study, but especially international relations, to discuss how identities like religion and race interplay with theory, law and policy making. It is something that builds an additional perspective to consider in all my other classes."
In Race & Racism and International Law & Politics (DIPL 3360), Professor Zinaida Miller is exploring the relationship between race and international law and the broader impact on the global community. Her course examines the role of colonialism, slavery, and settler colonialism in the development of the global order and the impact these practices have had on contemporary human rights and international law, particularly their exclusion from current debates in these fields. Professor Miller says that she is enjoying teaching the class and that the students she has been able to interact are very in tune with the materials and broad course themes. The class is also fully enrolled with thirty students, which is great for the development of DEI in the Diplomacy community.
Undergraduate Akaysha E. Palmer says,
"This Race and Racism course created by Dr. Miller has allowed students in the School of Diplomacy to reflect on the correlation between race, history, international relations, and law in ways that we would not typically think about or imagine. I have learned so much within the first few months of this course and am given the space to think critically about these often underdiscussed issues that I am passionate about."
Elsie J. Tierney shared,
"I am currently taking Dr. Miller's Race and Racism in International Law class and I'm really enjoying it. A lot of what we're learning are all things I haven't really learned in other classes. They're all topics and historical events that have been touched on, but never fully explained or analyzed. I feel like it is a very valuable class for students who aren't even Diplomacy majors."
Professor Fredline M'Cormack-Hale's new class Gender, Race & Culture in International Relations (DIPL 3370), gives students a primer on epistemologies and methods of feminism. It dives into how feminism intersects with postcolonial and indigenous theory. Diplomacy undergraduates have the opportunity to learn about theorization of gender in international relations, and how it and race intersect with Eurocentrism.
Dr. M'Cormack-Hale shared about the experience, "The students have been very transparent about their experiences with gendered discrimination, as well as the intersection of gender with other markers of identity like race, culture, ethnicity, and class among others. Some students have been very frank about their sense of privilege as well as the ways they are working to be allies, while others have spoken openly of the prejudices and biases they have encountered. There have been robust discussions on ways toward the transformation of the broader structurally rooted systems of oppression and injustice that continue to perpetuate inequity that are wedded to current neoliberal principles that unquestioningly celebrate globalization and neocolonialism. Racial justice as well as gender justice have been just two of the hotly debated topics and the class has looked to move out of the theoretical and see how these problems manifest themselves in our daily realities."
These courses come as a result of a student led and School supported Diversity, Equity, Inclusion and Justice initiative following the death of George Floyd. The School's Coalition; encompassing undergraduate and graduate students, alumni, faculty and staff; advised the School on curriculum changes, among several priorities identified as areas for improvement. The faculty took up the challenge with enthusiasm, updating syllabi with more diverse content and scholarship and completing DEI training in addition to creating these new courses.
Diplomacy's push to incorporate race into discussions of international relations puts it in the vanguard of an important shift in international relations scholarship and teaching. The past few years have led to new discussions about race in America and in its relationship with the rest of the world. By engaging with these critical, difficult topics, we put or students, faculty, and administrators in the best position for success and leadership in our field and specializations. These courses will be institutionalized in the Diplomacy course catalog, available to students regularly, and will continue to adapt to changing international dynamics.
To learn more and become involved in the School's Diversity, Equity, Inclusion and Justice Coalition, visit our website.
Categories: Education