Sushant Naidu in the UN General Assembly Hall
Sushant Naidu, a second-year graduate student in the Master of Arts in Diplomacy and International Relations program, has had quite the school year. In addition to being named the 2019-2020 Editor-in-Chief for the Journal of Diplomacy, and the President of the International Law Society at Seton Hall, he was selected to serve as an advisor at the Permanent Mission of Costa Rica to the UN, awarded a Peace Fellowship from The Rotary Foundation, and earned a position as a Community Economic Development Officer in North Macedonia with the Peace Corps.
Seton Hall is the latest of Naidu's homes across the U.S. and around the world. Raised in India and Kuwait, Naidu came to the School of Diplomacy from Vietnam, after learning that a master's degree was critical to turning his passion into his career. But his road to South Orange was far from direct.
Naidu graduated from East Central University in Oklahoma in 2003, where he majored in business and minored in Spanish. He also trained at the American Conservatory Theater in San Francisco, after which he pursued a nine-year career in theater, TV, film and modeling. By 2012, Naidu began exploring a new career path by teaching English as a second language in Los Angeles. Being raised around the world inspired a love for being around people from different countries, so teaching ESL seemed like the perfect fit. He enjoyed the connections that he made with students from all backgrounds and nations and was inspired to write an op-ed on hate speech that got picked up by the Huffington Post. With this, the seeds of his human rights interest took root.
Naidu began attending human rights events, and in the process, came across OutRight Action International, the first U.S. based Lesbian, Gay, Bisexual, Transgender, Queer, and Intersex (LGBTQI) human rights organization to obtain consultative status at the UN. This introduction to the overlap between human rights advocacy and the United Nations immediately hooked Naidu.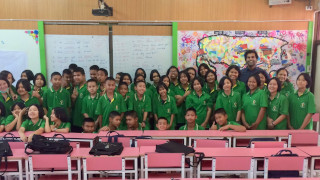 Sushant Naidu with his students in Thailand
Empowered by his experiences with OutRight and the UN, Naidu headed to India to conduct sensitization training on SOGI for the New Delhi Police Officers and found a volunteer position as a tutor for orphans living with HIV. A continued interest in education then brought Naidu to Thailand and later Vietnam, where he taught English and Spanish while advocating for the rights of LGBTQI students and teachers.
Naidu's human rights works had a compounding effect on him, affirming that he needed to find a way to turn his passion into a long-term professional career. He began seeking out international relations graduate programs with connections to the United Nations and discovered Seton Hall. Fearing that volunteer salaries wouldn't pay tuition bills, Naidu put the idea aside. In the meantime, the social media documentation of his global advocacy efforts were noticed by the Human Rights Campaign (HRC), who invited him to apply for recognition at their 2018 Global Innovative Advocacy Summit.
When his application was selected, he traveled to Washington, D.C. to participate in the Summit where he would have a fateful meeting with one of their staffers, Corina Hendren. After sharing with Hendren that his goal was to make the work he was being recognized for into his professional career, she told him without hesitation, "You need to get your master's degree." He expressed his financial hesitations along with his interest in Seton Hall and quickly realized that their meeting was not by chance — she was a 2016 Seton Hall alumna, and able to share about the variety of ways that Seton Hall works to make advancing your education accessible. It was just the push he needed to apply.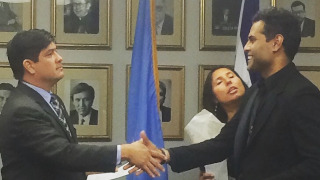 Sushant Naidu receiving a Certificate of Appreciation from President Carlos Alvarado Quesada
Now in his second year at The Hall, Naidu is settling into the spring semester after a very busy fall. In September, during the 74th session of the UN General Assembly, he accepted a position as an advisor to the Permanent Mission of Costa Rica to the UN. Since joining the Mission, he has worked on several human rights issues, voted on behalf of Costa Rica in the Special Political and Decolonization Committee, and campaigned on Costa Rica's last-minute bid for the UN Human Rights Council. His work during High Level Political Week earned him a Certificate of Appreciation, signed and presented to him in person by the President of Costa Rica, Carlos Alvarado Quesada.
Just before the holidays, Naidu was named a Rotary Peace Fellow, a recognition offered to only 100 students in the world each year. Following his graduation, the fellowship will send Naidu to Chulalongkorn University in Thailand to study conflict resolution, peacebuilding, and negotiation.
When he completes his studies in Thailand, Naidu will begin his next adventure — moving to North Macedonia to serve as a Community Economic Development Officer with the Peace Corps.
"I chose North Macedonia because they hosted their first ever gay pride parade last year, and I wanted to see how I could be of service in developing the LGBTQI community there. I want to learn how LGBTQI rights develop in post conflict states, even more so in North Macedonia, given the country's bid for the EU. I'm curious how that bid factors into the improvement of human rights standards. The posting with the Peace Corps seemed like a perfect fit."
Naidu adds that he has always been interested in the post Yugoslavian states and the conflict in the region, in part because of international classmates and friends who hail from this part of the world. The Peace Corps position will immerse him in an environment where he can apply all of his combined education, training and experience. He also looks forward to learning two more languages, Macedonian and Albanian, adding to the five he already speaks: English, Hindi, Urdu, Spanish, and Thai.
He credits his Comparative Foreign Policy class and Dr. Ann Marie Murphy for preparing him for this next leg of his journey. "My Comparative Foreign Policy class with Dr. Murphy was transformative," he says. "It made me look at the world from the perspective of states, rather than just an activist. It changed the way I looked at Human Rights. Every time I would get frustrated in class," he continues, "Dr. Murphy would always say, 'This will make you a better activist.' She was really encouraging, and ultimately, she was right."
Before he completes his degree and takes that next step, Naidu still has work to do on campus. As the Editor-in-Chief of the Journal of Diplomacy, Naidu led his team to recently publish their Fall/Winter issue, "Diversity in International Relations," and they are working on the Spring/Summer issue, "Human Rights: An Uprising," expected in June. Preparing these publications with the Journal has not slowed his own writing. His recent scholarship has been published by The Huffington Post, International Policy Digest, and the Elephant Journal.
Whether his path from North Macedonia leads him to serve as a Human Rights Officer for the State Department or the UN, an Advocacy Officer for an NGO, or a human rights professor, the School of Diplomacy is proud to be a part of his story, and looks forward to continuing to support his development as a global leader who is changing the world.
Meet Naidu's peers and other Great Minds at the School of Diplomacy »
Categories: Nation and World