Thursday, January 11, 2018
On a pre-dawn morning in late October, a group of students in business attire poured onto the front lawn of McQuaid Hall to catch a bus headed to Washington, D.C. I went as a student and a chaperone for Catherine Ruby, Director of Internships and Career Development, and Kyle Younger, Director of Professional Services, both of whom spent weeks facilitating the trip. Though the bus was quiet for the majority of the five-hour drive, when the sun came out and we arrived in the capital, all eyes were bright and excited.
By mid-morning, our group was escorted into the Rayburn House Building on Capitol Hill. The hallways were a blend of marble and wood, tapestries and statues. We met with John Jones, an alumnus of the School of Diplomacy and the current Chief of Staff for Congressman Emanuel Cleaver II. He discussed his dynamic career in politics and policy, recounting his time assisting on campaign trails and canvassing support for crucial social and political movements. His resounding words of advice stuck with all of us: never pass up an opportunity to do something outside of your comfort zone. Careers, especially out of college, are not necessarily linear, and students should prepare to expect the unexpected. Mr. Younger also had a few words to say regarding Mr. Jones advice: "John Jones provided our students with an example of how a lot of career planning involves turning unplanned events into opportunities to build a satisfying professional life. His presentation demonstrated the importance of remaining open to career possibilities." While preparing to walk to our next destination, Mr. Jones stayed behind to answer students' questions and make further recommendations.
By 11:30, we were through the doors of the Woodrow Wilson International Center for Scholars. Our hosts, Krishna Aniel, Education Program Specialist, and Elinor Hayes introduced us to the mission of the institute -- to foster nonpartisan research on global issues - and provided information on internship programs. Students were encouraged to apply for internships. Interns have the opportunity to work with a specific Wilson scholar as a research assistant, paving the way for excellent networking opportunities and meaningful contributions to the abundance of research released by the institute. In addition, Dr. James Person, a Wilson Scholar, gave a lecture regarding North Korea's nuclear conflict. Folders and applications in hand, we moved on.
The World Bank glistened in the mid-afternoon sun. The sleek metallic interior, tall ceilings and line of member flags gave the building a formal atmosphere. After navigating through elevators and grand hallways, we gathered in a conference room with Roberto Amorosino, Senior HR Specialist at the World Bank Group. His presentation provided an overview of the Bank's mission to reduce poverty as well as the highly competitive internship programs. However, his larger point reminded students of John Jones on Capitol Hill as he claimed the best way to beat the competition is to seek opportunities in networking and research alike. To be passionate is to be involved and current in your field of interest, and the best way to showcase passion today is social media.
Our final stop at 4:30 p.m. was a familiar one to the School of Diplomacy: the United Nations Foundation (UNF). Every semester, students who choose the Semester in Washington Program relocate to complete a full-time internship in the capital and take classes at the UNF building. Our host was none other than Professor Catharin Dalpino, the School of Diplomacy's D.C. correspondent who teaches the classes. She informed students that living and working in the capital is a life-changing experience, and the people are diverse and well-versed in public and foreign policy alike. In addition, she claims that work and internship opportunities are indeed endless, and there is always someone, somewhere, that needs a position filled. Dr. Ruby, who registers and advises students on the D.C. program, said that the UNF visit offers students the chance to see the class site and learn about employment opportunities from a D.C. insider: "The DC internships and experience are key to careers there. The Semester in D.C. program is open to all students at SHU."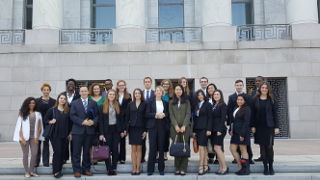 After a long day, our group boarded the bus home, retiring suit jackets and polished shoes. Tired as we were, most stayed awake to speak excitedly about the day's events. We were all in agreement that the School of Diplomacy offered an incredible trip for students to experience the capital in a professional capacity. Moreover, the speakers' reinforcement of networking as a key component of entering the workforce reminded us that our program is unique because the school's focus on professional development is just as impressive as the classes offered for the International Relations degree. To be part of the School of Diplomacy is to be part of a tight-knit and encouraging community with diverse opportunities to grow, and attending the Day in D.C. was an excellent opportunity indeed!
Categories: Nation and World