Thursday, October 7, 2021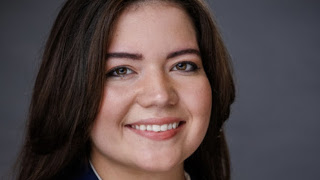 Sasha Amelang
Diplomacy Student Sasha Amelang presented her research on the international response to the COVID-19 pandemic during a UN High-Level Political Forum held on July 5th, 2021. The Forum was sponsored by the Ambassador from the Order of Malta and led by the Mission of Sisters of the Scared Heart of Jesus to the UN. Ms. Amelang's research focused on the economic and social effects of the pandemic responses of the governments of Spain, Japan, Mexico, and Colombia. Presenting alongside Ms. Amelang were Maltese Ambassador Paul Beresford-Hill, CBE, KM; Public Lawyer and Professor Gloria Díaz Brochet, RSCJ; Retired educator Chiaki Hatanka, RSCJ; Author Jorge Atilano González Candia, SJ; and Former Director of the Migration Secretariat at the Diocese of Huevla, Spain Miren Lumbreras, RSCJ.
Her research led her to the conclusion that "the dramatic economic contractions that Colombia and Mexico have experienced because of the pandemic are surprisingly related. Both countries have large informal workforces, whose workers are low-skilled by Western standards. Workers in these countries are typically in service-sector or contracting jobs, relying on their daily income to survive. The informal and physical nature of these working conditions leave no options for remote work, and a large sector of the previously employed workforce jobless."
When asked about her involvement in the High-Level Political Forum, Ms. Amelang said that "Presenting at the UN's 2021 High Level Political Forum (HLPF) was truly an enlightening experience. I was able to witness first-hand how thoughts and ideas come together between the General Assembly and Economic and Social Council to progress towards the achievement of the 17 Sustainable Development Goals. The whole experience was so exciting; doing the research, being in the meetings, and experiencing the inner workings of the United Nations was a life changing experience. I am so grateful for the opportunity; it painted a clear picture of how the UN is able to assimilate international perspectives and opinions to inform global goals."
Ms. Amelang had been a volunteer researcher for the Society of the Sacred Heart at the UN during the summer of 2021, which culminated in her presentation during the Forum.
The High-Level Political Forum's theme this year was "Holistic and Intersectional Approaches to Peace at the Heart of Achieving Sustainable Development Goals in a Post-COVID Era." The Forum was moderated by Nick Newland, the Policy and Communications manager for Associated Country Women of the World.
Categories: Nation and World , Research