Monday, November 16, 2020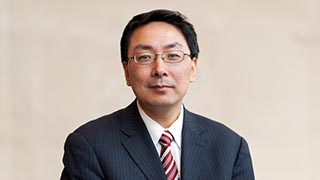 While many view China's rise and its potential for global leadership as undisputable, Yanzhong Huang, Professor and Director of Global Health Studies at the School of Diplomacy and International Relations, and senior fellow at the Council on Foreign Relations, presents new evidence of China's deepening health crisis and challenges the widespread view that China is winning the war on pollution.
In his new book, Toxic Politics: China's Environmental Health Crisis and its Challenge to the Chinese State, Professor Huang argues, "The health and non-health consequences of pollution, as well as the complexities involved in addressing the problem, will test the resilience of the Chinese state and its dreams of global leadership." The book examines how the institutional structure of the Chinese government appears to have the ability to successfully execute environmental policies, but these policies heavily rely on a campaign-style approach in implementation, which typically serves short-term goals and can have unintended and undesirable consequences on other policy fronts. 
Telling of a growing belief among many that the Chinese model presents a more viable option to liberal democracy, Huang cautions against this, arguing that "China's strengths are equally matched by its weaknesses." As China's economy and global ambitions continue to grow, so do its domestic challenges, particularly those of environmental concerns. Huang asks, "Given the flawed implementation of environmental policy, can China accomplish its stated goals without an ultimate transition to democratic governance? It is doubtful." Huang concludes his argument by assessing that the impact of environmental health problems showcases a resilient but fundamentally flawed political system. Huang believes that the environmental crises will continue to pose as an obstacle in China's future. 
The publication of Huang's book is timely, as China shows signs of increasing their domestic coal and steel production in an effort to regain economic losses from Covid-19, and President Xi Jinping recently announced China's intentions to become carbon neutral by 2060. Professor Huang's book provides an apt analysis of the institutional difficulties China faces, if it truly wishes to achieve this goal. He suggests, "the West should be preparing for the possibility that China might lose its battles against pollution and other systemic challenges, creating a deeply unstable superpower."
Toxic Politics: China's Environmental Health Crisis and its Challenge to the Chinese State
Publisher: Cambridge University Press
Online publication date: September 2020
Print publication year: 2020
Online ISBN: 9781108895132
DOI: https://doi.org/10.1017/9781108895132
Categories: Education , Nation and World , Research