Thursday, September 14, 2017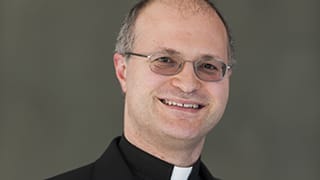 Fr. Brian Muzás, assistant professor and director of the Center for United Nations and Global Governance Studies at the School of Diplomacy and International Relations, published a feature op-ed on Fox News Online. The essay is entitled "The world is fixated North Korea's leader, missiles. So why do we continue to overlook its forlorn people?"
In the op-ed, Fr. Muzás notes that given the horrendous conditions the people of North Korea have been subjected to, "A tool to help these people remains overlooked – a global political commitment called the Responsibility to Protect (R2P)."
Fr. Muzás makes the case for R2P, noting that a number of UN actions over the last decade or so, including military interventions, have been premised on R2P.
Kim Jong Un must understand that he cannot hide behind a cloak of sovereign immunity.
Life in the Democratic People's Republic of Korea (DPRK) is marred by arbitrary detention and torture; rape and forced abortion; denial of the rights to food, free thought, conscience, and freedom of movement; and social and political discrimination in access to housing, jobs, education, and even potential marriage partners.
These evils have not gone unrecognized.
A UN inquiry determined that these North Korean human rights abuses resembled those of the Nazis. The chairman of that inquiry wrote Kim Jong Un to warn that he could be tried at The Hague for war crimes.
That inquiry was three years ago, yet the problems remain. Sadly, the world has not turned to what has been called "the most important shift in the definition of sovereignty...since the Treaty of Westphalia of 1648" – the emergent norm of R2P.
R2P is no mental exercise. Endorsed by all UN member states at the 2005 World Summit, R2P has become increasingly important.
Fr. Muzás concludes:
Will nations come together to take Responsibility to Protect seriously? Or will nations individualistically decide that the plight of the North Korean people is merely an unfortunate problem not worth addressing? Actions speak louder than words. By this measure, the world remains largely silent – and the North Koreans suffer.
Read the full feature op-ed on Fox News Online, "The world is fixated North Korea's leader, missiles. So why do we continue to overlook its forlorn people?"
Categories: Nation and World