Thursday, September 24, 2020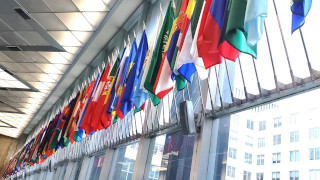 U.S Department of State in Washington, D.C.
Through its continued commitment to supporting diverse graduate candidates with a dedication to public service and promotion of US interests abroad, the School of Diplomacy and International Relations is a proud official partner institution of the following Foreign Service prestigious graduate fellowships: USAID Donald Payne International Development Program, Thomas Pickering Foreign Affairs Program and Charles Rangel International Affairs Program.
The USAID Payne Fellowship seeks to attract outstanding individuals who are interested in pursuing careers in the Foreign Service of the US Agency for International Development. Donald M. Payne, a native of Newark, New Jersey, was elected to represent the 10th Congressional District of New Jersey in 1988 as New Jersey's first African American Congressman by an overwhelming majority. 'We are especially honored to support this program and pay homage to Seton Hall University alumnus, the late Congressman Payne, whose legacy leaves behind a long history of service to the nation and the world in promoting international development.' – says Daniel Kristo, Assistant Dean for Graduate Enrollment Management.
Diplomacy graduate student, Erick Agbleke, at the U.S. Embassy in Togo.
The Pickering and Rangel Fellowship Programs prepare outstanding young people, who represent ethnic, gender, social, and geographic diversity and have an interest in pursuing a Foreign Service career in the U.S. Department of State. The Programs encourage the application of members of minority groups historically underrepresented in the Foreign Service, women, and those with financial need. Indeed, in an effort 'to creating a more diverse and inclusive workforce that effectively advances America's prosperity, security, and values' the US Department of State announced earlier this month that beginning in FY-2021, it will increase both the Pickering and the Rangel Graduate Fellowship cohorts by 50 percent – for a total of 90 Fellows per year.
Students who are interested in FY 2021 Rangel, Pickering and Payne Fellowships may apply by the respective deadlines of October 14, October 21, and November 1 – watch this webinar to learn more. Fellowship applicants are encouraged to file a concurrent Diplomacy graduate application for the Fall 2021 term with a priority deadline of February 20 (applicants can request a $75 graduate application fee waiver).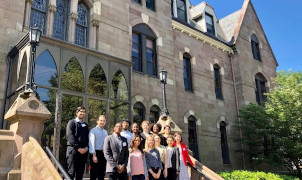 Public Policy and International Affairs (PPIA) 2019 summer cohort.
If selected as an official Fellow and Diplomacy graduate candidate:
The School will match fellowship funding, which together will cover 100% graduate tuition, for the MA in Diplomacy and International Relations program - provided that you maintain good academic standing and full-time status. Additional stipends are provided directly by each Fellowship.
You will be matched as a Diplomacy research fellow with one of our faculty/practitioner members in alignment with your specializations. All fellows must select two out of 13 functional and regional specializations; Payne fellows' two specialization selections must include at least one of the following: Global Health and Human Security, Global Negotiation and Conflict Management, International Economics and Development, Post-Conflict State Reconstruction and Sustainability.

The School will also recognize finalists (those who are selected for interviews in Washington, DC but are not chosen as an official Fellow) by offering priority consideration for other merit-based awards from the School within the graduate application preferred deadlines.
About the School of Diplomacy and International Relations:
Founded in a strategic alliance with UNA-USA, the School of Diplomacy and International Relations is an affiliate member of the Association of Professional Schools of International Affairs (APSIA) and a graduate consortium member of the Public Policy and International Affairs Program (PPIA), which promotes the inclusion and full participation of underrepresented groups in public service and to advance their leadership roles throughout our civic institutions serving domestic and international affairs. In addition, last year the School joined the Global Access Pipeline (GAP) consortium, which advocates for underrepresented individuals to achieve leadership positions in international affairs across governmental, non-profit and private sectors in the United States.
Categories: Nation and World