Tuesday, November 9, 2021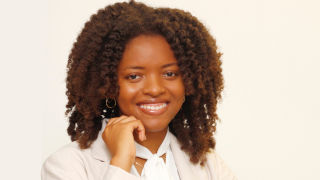 Kelsey Harris, '20
Born and raised on the island of Antigua, Kelsey Harris, '20, has always felt a strong commitment to issues faced by the Caribbean nations, developing an early passion to learn about and tackle issues including poverty, climate change, and education. This dedication brought her to Seton Hall, where she completed her B.S. in Diplomacy and International Relations. It also led to her success in achieving a prestigious Commonwealth Scholarship to study International Development at the London School of Economics and Political Science (LSE).
The Commonwealth Scholarship is funded by the U.K. government to give access to education for people from one of the commonwealth countries. The scholarship to study in the U.K. awards funds to talented individuals with financial need who are interested in tackling sustainable development issues globally.
Recounting her time studying at Seton Hall as a period of enormous growth, Kelsey is moved by just how much she was able to learn and achieve at the School. She credits her Diplomacy Professors, Drs. Murphy, Goldfrank, and Huddleston, in particular, for helping her to succeed, and finds that much of what they have taught her has been invaluable during her graduate studies. Kelsey is grateful to friends, peers, and faculty who supported her during her time at Seton Hall and made her feel welcome.
An essential part of her growth, Kelsey was very active on campus. As a resident assistant, she learned about leadership, commitment, and time management, all of which gave her the skills to advance her goals. She also worked in the Language Resource Center on campus and was involved in the Women of Diplomacy Leadership program, the West Indian Student Organization, and served as a student ambassador for the School of Diplomacy. Learning about the Afro and Latinx communities through the Latino Institute further broadened her perspective.
When asked what advice she wishes she had when she started at SHU, Kelsey advises not stressing so much about jobs and internships. She remembers feeling pressure to immediately find that internship at the UN and remembers wondering what went wrong when she didn't hear back. "Be open with your opportunities, and if anything comes your way and you think you have the time and the capacity to do it, I would say try it out. Every internship and job offers an opportunity for growth, and that's what matters in the long run."
Attending school at LSE in England has been an adjustment from Seton Hall life. Classes are broken up into lectures and seminars with the lecture portion being held entirely online due to the pandemic. Due to the small class size of the seminar section, it's limited Kelsey's ability to meet and interact with other students, though she remains steadfast and is working hard to get involved on campus.
In terms of career goals, Kelsey hopes to directly help the Caribbean nations. Managing a program that tackles climate change, environmental problems, poverty, and education issues is her dream.