Tuesday, February 9, 2021
After graduating cum laude from Western Michigan University in 2013, Bradley Ryktarsyk headed to the Big Apple to work at the Institute of International Education before making his way to Seton Hall. 
Ryktarsyk is pursuing a master's degree in Diplomacy and International Relations, while working as a graduate assistant at the School.  Now in his second year, Ryktarsyk recently became the associate editor for the Journal of Diplomacy and International Relations. His latest piece looks at prospects for improving America's image abroad through public diplomacy under the Biden Administration. To read it, click here.
An earlier article Ryktarsyk wrote for the Journal on the declining enrollment of international students in U.S. colleges and universities was recently published in the International Policy Digest.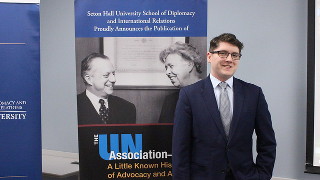 As a graduate student, Ryktarsyk is specializing in policy analysis and post-conflict state reconstruction and sustainability.  His ongoing interest in international education inspired his master's research project, which focuses on the public diplomacy aspects of the Fulbright U.S. Student Program.
When asked what led him to Seton Hall, Ryktarsyk points to the friendly, diverse community that makes up the School of Diplomacy.  He says that students, faculty and staff form a close-knit community that encourages participation. "You get all of these different perspectives in the classroom as well, which makes for some very interesting discussions with the professor and with your fellow classmates."  
With an interest in deepening his knowledge of American foreign policy, Ryktarsyk recently became part of the School's Security Fellowship Team. Under the guidance of Seton Hall alumnus and Professor of Practice, Mohamad Mirghahari, the team has been examining how counterterrorism efforts, which dominated U.S. foreign policy for almost two decades, can be used to help the U.S. succeed in an era of great power competition with Russia and China.
Ryktarsyk is confident that earning a graduate degree and applying the research skills he is developing will allow him to contribute to policy changes that have a positive impact on the world.
"I think that being able to actually have that skill set, to learn how to do research and how to make a cohesive argument, and prove that argument, is something that will benefit me moving forward. I think not only having that knowledge, but also being able to demonstrate that I can actually do something with that knowledge, will allow me to influence others."
In terms of future career plans, Ryktarsyk hopes to contribute to decision making on a policy level. He also remains interested in international education which he has been involved with professionally for the last 10 years, giving him numerous professional options to consider after he graduates in May. 
 
Categories: Arts and Culture , Education