Wednesday, February 14, 2018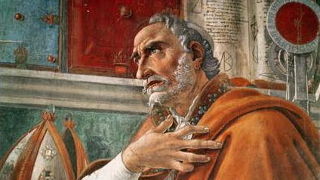 This week many classes in Core II will be covering Saint Augustine of Hippo, and his classic work The City of God. Like Perpetua of Carthage, Augustine was also from North Africa but came of age just after the persecution of Christians had ceased. His world, however, and even his family was very eclectic; his pagan father pushed him to get a classical education, while his Christian mother Monica prayed for his salvation for many years.
After his conversion to Christianity, he wrote his famous Confessions, read in Journey of Transformation. The City of God is Augustine's answer to those who blamed the Christians for the impending fall of the Roman Empire (which happened just as Augustine's own life was coming to an end). He wrote about the heavenly City that exists within the temporal realms of this world.
Categories: Arts and Culture , Campus Life , Faith and Service