Dr. Martin Luther King, Jr.
On March 24 at 5:30 p.m. and April 3 at 12:30 p.m., Seton Hall will hold two virtual "on the green" memorial events, honoring two of our greatest representatives of social justice and sacrificial faith. Faculty, administrators and students will do readings. Each event will be about a half hour, no more. There is a public TEAM created called Romero-King event, which anyone can join. In the week and a half in between the two events, faculty can have their students watch any of these films, available now to the Seton Hall community:
These are the films:
The following is, for the most part, in the words of Rev. Pritchett:
The collaboration, to honor the two religious figures came after the Academic Expo in 2019, when the MLK Leadership Program developed a vision to look at the intersections of the Catholic Intellectual Tradition, as represented by the life and work of Archbishop Romero and the prophetic ministry of social and restorative justice of the Rev. Dr. Martin Luther King, Jr. Rev. Pritchett's vision received the support of Dr. Nancy Enright, Director University Core Program. Dr. Ines Murzaku, Chair of Catholic Studies, also has offered enthusiastic support. Together we planned this event to be celebrated in person, on the green, and in the new Core Center, where we could show the films. With the coronavirus outbreak, we decided not to let this celebration be stopped by not being on campus.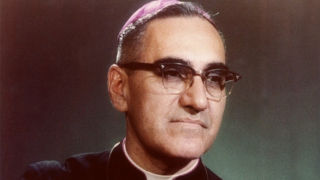 Saint Oscar Romero
Archbishop Oscar Romero, the fourth Archbishop of El Salvador, spoke on the radio across to his country He spoke out against poverty, social injustice, assassinations, and torture amid the growing war between left-wing and right-wing forces. He condemned the violence and the nonstop disappearances of the poor at the hands of a repressive government. He was beatified on May 23, 2015. He was canonized October 14, 2018. His feast day is March 24. His motivation and inspiration to empower others is seen and summarized in his quote "Each one of you has to be God's microphone." Romero also said, "Wherever there is someone who has been baptized, that is where the church is. There is a prophet there. Let us not hide the talent that God gave us on the day of our baptism and let us truly live the beauty and responsibility of being a prophetic people."
MLK was a well-known civil rights period activist who had a great deal of influence on American society in the 1950's and 1960's. His strong belief in nonviolent protest helped set the tone and one strategic approach for the Civil Rights movement. Boycotts, protests, and marches were eventually effective, and legislation passed against racial discrimination. Dr. King didn't just preach about a comfortable Christianity or a stagnant church. He led the church to action. As a social justice prophet, he denounced not only racial inequality but also wealth disparity and economic injustice. Dr. King was in Memphis when he was assassinated because he was organizing a strike for better pay and working conditions for Negro sanitation workers.
Two of his quotes set the paradigm for this new initiative at Seton Hall University…
"Everybody can be great...because anybody can serve. You don't have to have a college degree to serve. You don't have to make your subject and verb agree to serve. You only need a heart full of grace. A soul generated by love."
"Injustice anywhere is a threat to justice everywhere. We are caught in an inescapable network of mutuality, tied in a single garment of destiny. Whatever affects one directly, affects all indirectly." ― Martin Luther King Jr., Letter from the Birmingham Jail, April 16, 1963.
"The objective of this strategic initiative is to honor the legacies of these men and to encourage and motivate transformative servant leadership in civic affairs and social justice issues both nationally and internationally within the context of the Catholic intellectual tradition and the Protestant moral ethic," said Rev. Dr. Forrest Pritchett, Program Director, Martin Luther King Leadership Program
MLK Leadership Program History Statement
Established in 1970, the Martin Luther King, Jr. Leadership Program is the oldest and most prestigious servant leadership program at Seton Hall University and is one of the earliest such programs in the United States.
Originally established as a university scholarship, the program broadened its vision to meet the challenges of the 21st century. Today, the MLK Leadership Program provides partial tuition scholarships to exceptional students. The program also provides these students invaluable civic engagement, management and leadership development opportunities. MLK Scholars learn how to oversee on campus and off campus programs and events from design to implementation. MLK Scholars are also required to conduct research on issues regarding values, equality of access and social justice.
This honorary society received numerous other awards for its outstanding programming, including "The Outstanding Organization of the Year" — an award it received twice in the last 20 years — and the first ever "Organization Promoting Diversity Leadership" award. Additionally, President Barack Obama issued the Lifetime Achievement Award to Rev. Dr. Pritchett in Spring 2016 for his direction of the program and an extensive number of community initiatives. Many of the program's graduates matriculated and received national fellowships to pursue graduate and doctoral studies.
The MLK Leadership Program is comprised of scholars from around the world, who have an average historical GPA of approximately 3.5 and a ninety (90) percent retention rate.
Join the Microsoft Teams Meeting here »
Tuesday, March 24 - 5:30 p.m; Friday, April 3, 12:30 p.m.
+1 908-512-7307 United States, Elizabeth (Toll) +1 908-512-7307 (Toll)
Conference ID: 316 489 857#; Conference ID: 606 870 058#
Categories: Arts and Culture , Faith and Service