Thursday, November 12, 2020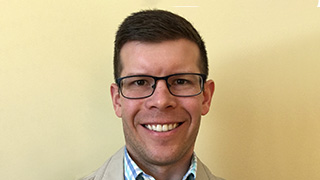 Dr. Patrick Manning, Immaculate Conception Seminary School of Theology
Inside the Core this week, we will hold our fifth scheduled book talk in the Scholars' Forum in the Catholic Intellectual Tradition with a discussion by Dr. Patrick Manning, Assistant Professor of Pastoral Theology and the Chair of the Department of Pastoral Theology at Immaculate Conception Seminary School of Theology at Seton Hall University. He will be discussing his newly published book, Converting the Imagination: Teaching for Recovering Jesus' Vision for Fullness of Life (Pickwick Publications, 2020). In this book, as described on the publisher's website, Dr. Manning "offers a probing analysis of this crisis of meaning, marshalling historical and psychological research to shed light on the connections among the disintegration of the Christian worldview, religious disaffiliation, and a growing mental health epidemic."
Dr. Manning explores how the contemporary world is not conducive to cultivating what might be called a Christ-like imagination; he argues that it is not an accident that an increase in loss of religious meaning is linked to growing anxiety and other mental health issues, especially among the young. Offering scholarly analysis but reaching a broad audience of scholars, teachers, pastors, and others interested in living and sharing faith, Dr. Manning explores ways to engage our imaginations in seeing the world in a new way, as Jesus, in fact, did for his disciples and as the early Christians cultivated in their growing community.
In an interview on the publisher's website, Dr. Manning says, "Our society is undergoing a crisis of meaning. Living in an increasingly pluralistic and overwhelming world, many people today are failing to find meaning in their religious traditions and in life in general. But we don't need to be resigned to this. There is more to life. My hope is that this book will assist Christian communities – especially the people responsible for teaching the faith – to address this crisis of meaning by engaging people with Jesus' vision for a life of joy and abundance." Explaining that he was inspired to write the book, in part, by his experience with teaching students here at Seton Hall, Dr. Manning says, "I have become increasingly concerned about two trends: the declining mental health of young people and the increasing numbers of people abandoning their faith traditions. What I read in the sociological research and heard from my students all made clear that many people today do not find Christianity meaningful or relevant…. I was convinced that the problem was not that there is nothing meaningful in the Christian tradition. The problem is that Christian communities have not adapted adequately to the changing times and therefore are not doing a good enough job leading people into a transformative encounter." To address this problem, he advocates a transformation of the imagination, a new way of seeing and, therefore, believing that is life-changing.
The book has already received praise from critics. Thomas Groome, Professor of Theology and Religious Education, Boston College, says, "When Jesus began a parable—as he so often did—with 'the reign of God is like . . .' he was surely engaging people's imaginations, inviting them to begin with their own reality and to imagine from there their way forward into the reign of God. This is the pedagogy that Pat Manning favors in Converting the Imagination. In our era, when people find 'reasoning' less persuasive, engaging their imaginations is a crucial strategy for educating-in-faith. Manning does this very well!" Harold D. Horell, Professor of Religious Education, Fordham University says, "In this thought-provoking book—a must-read for all who are interested in the intersection of faith, pastoral practice, and contemporary culture…." Dr. Manning's talk promises to provide the basis for an interesting and inspiring discussion.
The Scholars Forum in the Catholic Intellectual Tradition is co-sponsored by the Catholic Studies Program, the Catholic Studies Center, the Department of Religion, and Immaculate Conception Seminary School of Theology. It will continue with readings by faculty authors approximately every two weeks, through TEAMS. See the schedule for upcoming speakers and topics.

Wednesday, November 18, 4 p.m. – Patrick Manning 
Join the event live 
Learn more about his book, Converting the Imagination: Teaching to Recover Jesus' Vision for Fullness of Life
To read Dr. Manning's blog, click here.
 
Wednesday, December 2, 4 p.m. – Justin Anderson 
Join the event live 
Learn more about his book, Virtue and Grace in the Theology of Thomas Aquinas
Upcoming:
January 2021 (TBA) –  Ines Murzaku 
Learn more about her book, Mother Teresa: Saint of the Peripheries
Lent 2021 (TBA) –  Maria Morrow 
Learn more about her book, A Busy Parent's Guide to a Meaningful Lent
Categories: Education