Thursday, October 8, 2020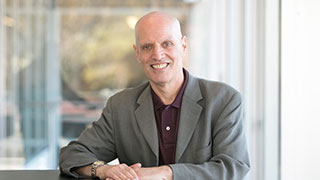 The Scholars' Forum in the Catholic Intellectual Tradition consists of faculty talking about their recently published or soon-to-be published books. It takes place online, every other week through Wednesday, December 2. It is co-sponsored by the University Core, the Catholic Studies Program, the Catholic Studies Center, the Department of Religion, and Immaculate Conception Seminary School of Theology.
On October 14 at 4 p.m., the second event in the series will be given by Peter Savastano, Ph.D., associate professor in the Departments of Anthropology and Religion. He also serves on the Core Advisory Board and the Signature Course Curriculum Committee and leads the Core Assessment Committee. Savastano's book, of which he is the editor, Merton & Indigenous Wisdom (Louisville, Ky: Fons Vitae Press, 2019), is a collection of essays on Thomas Merton, one of the writers included in the textbook for Core 1: Journey of Transformation. Thomas Merton, the Trappist monk who wrote widely on contemplation, mysticism, non-violence, and many other topics, converted to Catholicism as an adult and spent much of his life thereafter in Gethsemane Monastery in Louisville, Kentucky. However, he died in Thailand, where he was attending a meeting for monks of various religious traditions. When Pope Francis spoke to the U.S. Senate in 2015, he mentioned "four notable Americans," one of whom was Thomas Merton, and the quality the Holy Father particularly noted with regard to Merton was "dialogue." It is this quality, dialogue with indigenous peoples and their religious traditions, that is celebrated in Savastano's book. 
This book is part of the Fons Vitae Thomas Merton Series, which offers books focusing on different topics related to Merton and consisting of collections of "essays by international scholars that assess the value of Merton's contributions to inter-religious dialogue." We look forward to hearing Savastano discuss this interesting and timely aspect of Thomas Merton's powerful legacy to the church, to our country, and to the Catholic Intellectual Tradition. 
The Scholars' Forum in the Catholic Intellectual Tradition will continue with readings by faculty authors approximately every two weeks through Microsoft Teams.

See the schedule for upcoming speakers and topics:  
Wednesday, October 14, 4 p.m. – Peter Savastano
Join the event live 
Learn more about his book, Merton & Indigenous Wisdom
Tuesday, October 27, 2 p.m. –  Jeff Morrow 
Join the event live 
Learn more about his book, Modern Biblical Criticism as a Tool of Statecraft (1700-1900)
 
Wednesday, November 4, 4 p.m.  – Gregory Floyd
Join the event live 
Learn more about his book, The Catholic Reception of Continental Philosophy in North America
 
Wednesday, November 18, 4 p.m. – Patrick Manning 
Join the event live 
Learn more about his book, Converting the Imagination: Teaching to Recover Jesus' Vision for Fullness of Life
 
Wednesday, December 2, 4 p.m. – Justin Anderson 
Join the event live 
Learn more about his book, Virtue and Grace in the Theology of Thomas Aquinas
Upcoming:
January 2021 (TBA) –  Ines Murzaku 
Learn more about her book, Mother Teresa: Saint of the Peripheries
Lent 2021 (TBA) –  Maria Morrow 
Learn more about her book, A Busy Parent's Guide to a Meaningful Lent
Categories: Faith and Service