Wednesday, November 4, 2020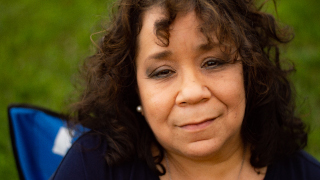 Maribel Landrau, M.A., Assistant Director of the University Core
Inside the Core this week, we are extremely happy to welcome Maribel Landrau to her new position as Assistant Director of the University Core (as of Thursday, Nov. 5).  I say we welcome her to her new position, not to the Core, as Maribel has been teaching in the Core for five years. A very popular and extremely caring professor, Prof. Landrau will now also be working with the students and faculty of the Core full-time.  
Maribel Landrau has been working at Seton Hall in the Department of Communication (now part of COAR) for twenty-nine years as an administrative assistant.  She says, "From the time I arrived in the United States from Puerto Rico, The Hall has been my 'Home for the Mind, Heart and Spirit.'"  Not one ever to take it easy, while working full-time here, Maribel earned her undergraduate degree with a B. A. in Catholic Theology in 2013.  She went on to attend Immaculate Conception Seminary School of Theology, obtaining her M.A. in Theology in May of 2016; she describes her experience as inspiring.  She says, "The School of Theology is an example of what Bishop James Roosevelt Bayley, the founder of Seton Hall envisions what a University should be, 'a place where faith should be enriched and the curriculum can enhance young minds to become strong leaders in Society.'" 
In teaching her Core classes, Maribel brings her strong knowledge of theology to bear in helping her students navigate the Catholic intellectual tradition integral to the Core.  She came to the Core thanks to her connections in the Communications Department. Her mentor (as she always calls him), Dr. Jon Radwan of COAR, encouraged her to teach Core I: Journey of Transformation, and spoke to me about her (when I was Coordinator of Core I) in 2015.  I spoke to Tony Sciglitano, then Director of the Core, and she began teaching Core I very successfully.  Soon we asked her to teach Core II: Christianity and Culture in Dialogue.  And during the last two years she has been teaching in Catholic Studies, at the request of Dr. Ines Murzaku, offering a very popular course, Latin American Catholicism, which is also cross-listed as a Core III.  Dr. Murzaku says of her colleague: "I have known Maribel Landrau M.A. for 21 years now. Her dedication to Seton Hall University and to our students has been remarkable. Her dedication to the CORE and Catholic Studies has also been remarkable. I welcome Maribel in her new role as Assistant Director of the CORE and look forward to working with her for many years to come."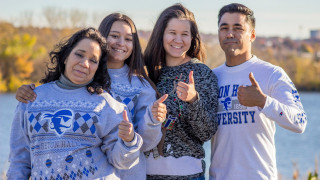 The Landrau family -- Maribel, Jorge Jose, Ashley, and Denise -- Proud Pirates!
Students also love Prof. Landrau.  Paige Hawco, double major in Biology and Catholic Studies, says, "Professor Landrau is the type of professor who makes a difference in her students' lives through her informative, engaging, and passionate teaching style. She inspired me to pursue a second major in Catholic Studies, and she became my role model who I will forever look up to."  Giselle Pineda, also a double major in Biology and Catholic Studies, and President of the Catholic Studies Club, says, "Professor Maribel Landrau is not only an inspiration to her students but to all those around her. She has a wonderful heart that shows compassion and kindness to everyone she meets." 
However, Seton Hall is not just a home for Maribel herself, but a family affair. Maribel's three children all received their degrees from Seton Hall:  Jorge Jose earned a BA (2000) in Communication and a Juris Doctor from the Seton Hall School of Law (2003); Ashley has a BA in Nursing (2012), and Denise completed her BS from the College of Education and Human Services in 2018.  In fact, Denise was a student in my Great Books I class several years ago.  Like her mom, she was a terrific student. Maribel says, "As you can read, we are a proud Pirate Family.  I am grateful and proud of my role at the University.  May the Good Lord continue to bless this place that I have called home for the last 29 years."  We are very grateful that her new home within her home will now be the Core.   
Categories: Education , Faith and Service