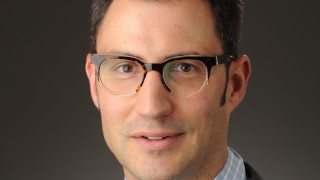 Dr. Chad Thralls, Core Fellow and author
Inside the Core, we are pleased to host another virtual presentation in the Scholars' Forum in the Catholic Intellectual Tradition. The Scholars' Forum in the Catholic Intellectual Tradition consists of faculty talking about their recently published or soon-to-be published books. It takes place online, usually every other week, on Wednesday, at 4 p.m. It is co-sponsored by the University Core, the Catholic Studies Program, the Catholic Studies Center, the Department of Religion, and Immaculate Conception Seminary School of Theology.
The ninth event in the series and fourth event of the spring semester will be given by Dr. Chad Thralls, Core Fellow in the University Core. He is also a member of Seton Hall's Contemplative Pedagogy Group. His book, Deep Calls to Deep: Mysticism, Scripture, and Contemplation (Orbis Books, October 2020), is based on his own contemplative experience and Biblical knowledge. As described on the Orbis website, Deep Calls to Deep "explores mysticism through the text Christians already read, the Bible. It explores the metaphors and images found in scripture and the contemplative tradition that can enliven the spiritual imaginations of Christians. Highlighting these treasures illuminates fresh possibilities for understanding scripture for envisioning God, the human person, our connections to our fellow human beings, and how we live in relation to the natural world." Also quoted on the Orbis website is high praise for the book and its author: "Those who walk the pathless path of contemplation owe an immense debt of gratitude to Chad Thralls for the gift of this book. It is at once learned, clearly written, and most especially born of his own contemplative practice. As he puts it so succinctly, 'We are the silence that blossoms.'"—Martin Laird, O.S.A., author of Into the Silent Land, A Sunlit Absence, and An Ocean of Light.
Dr. Thralls also brings contemplation into his Core classes. I have observed him doing this, and he does so with grace and wisdom (not pushing it). Students responded well. It is a helpful antidote to the anxiety so many students are feeling currently. Core classes always include Scripture, so this book, which links contemplative practice with the Bible, is deeply relevant to what students are studying. In Core II, we also study two mystics, Hildegard of Bingen and Julian of Norwich. Contemplation would be something very relevant to these two authors' lives. Finally, the Core is based on dialogue between the Catholic intellectual tradition and other perspectives. Contemplation is one area where inter-religious dialogue has made strides for decades. Notice Thomas Merton (another Core author), for example, and his dialogue with Zen mystics. However, most importantly, as the description of the book notes further, "Deep Calls to Deep introduces the theological issues of Christian mysticism and explains the primary practices necessary to experience mystical consciousness."
Much needed in these troubled and anxious times, the mysticism rooted in Scripture described by Dr. Thralls offers hope and consolation through methods tested by mystics and saints for centuries. Please join us on Wednesday afternoon to hear from Dr. Thralls himself about this topic.
Learn more about his book, click here.
The Scholars Forum in the Catholic Intellectual Tradition will continue with one more reading by two faculty authors. See below:
April 21, Wednesday 4 p.m. Fr. Paul Haffner and Fr. Joseph Laracy, eds. Stanley Jaki Foundation International Congress 2015.
Learn more about their book, click here.
Categories: Arts and Culture , Faith and Service