Thursday, September 5, 2019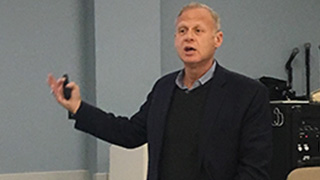 Lee Miller lectures worldwide on the art and science of persuasion.
Lee Miller is the guru of strategic influencing. An executive coach and best-selling author, he works with professionals around the world to help them improve their ability to shape outcomes. In this interview, Lee talks about the power of SI and the seminar series he'll be leading this fall, which looks at how different factors affect influencing.
You've been preaching the gospel of strategic influencing for years. What draws people to your workshops?
In today's workplace, we can't simply tell people what to do. We have to be collaborative. People want to learn how to gain enthusiastic, voluntary support from others – how to motivate you to help me. The workshops teach those skills. I also use a teaching model that is truly different. It draws on my background as a lawyer and corporate executive, my training in behavioral economics, and my experience in HR and as a labor negotiator. I put everything into an easy to learn model and way of thinking that allows people to form a strategy for influencing the way people behave.
You often write and speak about a concept called the "U Perspective." How does that work?
It starts with understanding what motivates people to help you. You need to be able to appreciate what the person you are trying to influence cares about. You need to understand how they see a situation and how helping you will help them.
Effective communication is something you emphasize in the SI series. But with our greater reliance on technical know-how at the office, are communication skills becoming less important?
Not at all. A study by Carnegie Mellon found that 85% of success is based on your ability to communicate, to lead, negotiate and influence. Just 15% of success is based on technical skills. Tech skills allow you to be an individual contributor. But if you want to get beyond that to where you are really making things happen, creating strategic partnerships and building resources, you need to get people to buy into what you want. Technical skills can limit your success unless you couple them with strategic influencing skills.
Miller leads half day workshops at Seton Hall that empower students to build the skills they need to be effective influencers.
Still, automation and artificial intelligence keep threatening job security. Is SI really a buffer against AI?
Having the right communication skills is still highly prized in the business world. High paying jobs will go to people who have influencing skills, who can sell, negotiate, build strategic partnerships. AI will not replace human beings, it will replace those tasks that human beings do that do not require being supportive of others.
One of your workshops focuses on women as strategic influencers. What's different about the way women and men communicate strategically?
Women have the potential to be much better at this than men. They share. They communicate. But they frequently overlook the need to gain support and build alliances with others in order to be successful. We work on communicating for a purpose.
Are there differences in the way millennials approach influencing versus their older counterparts?
Millennials and Generation X folks are much better at influencing virtually using social media, IM, texting, etc. But that's limiting if you don't have a strategy for influencing in both virtual and non-virtual settings. Having to influence face-to-face is much harder for them. On the other hand, older generations are not as comfortable with influencing virtually. I teach people to think about which tools they need to use to communicate and how to use them effectively.
Is SI more essential in certain fields or job types?
It can really be applied to any industry. I've worked with accountants, lawyers, consultants and pharmaceutical executives. They all understand how critical this skill set is. My approach to teaching strategic influencing is effective, practical and hands on. The next day you can actually go back to the office and use it.
What's the secret sauce when it comes to strategic influencing? How do you find out what motivates someone?
Active listening. Asking the right questions. There are tools that you can use to find out what people care about. If you really want to know more, you'll have to take the class.
Lee Miller continues the conversation on strategic influencing in his recent article about how the New York won and then lost Amazon's East Coast headquarters.
Visit our web site to learn more about SI, to register for the series, and to find out about custom programming.
Categories: Education