Thursday, December 12, 2019
Nearly half of the world's population uses social media. In fact, 366 million people started using platforms such as Facebook and Twitter in the past year alone. That's more than a million new users signing on to social each day. In addition, social media channels and strategies are always evolving, making it hard to keep up with the latest changes and features. To help demystify social media, Seton Hall's Continuing Education and Professional Studies (CEPS) is offering two new online programs focused on skill building in social media, beginning this spring.
The Foundation Course in Social Media is for true beginners interested in navigating top-tier social media platforms including Facebook, Instagram and Twitter. The Advanced-Skills Course is designed for managers and strategists who are already engaged with popular platforms and want to better use social media as part of their digital strategies.
Both courses are led by Associate Professor Dan Ladik, who teaches social media marketing at the Stillman School of Business. Ladik's main teaching and research interests include marketing strategy, personal selling and sales management, servant leadership and web 2.0/social media. He will be joined by guest instructors in the advanced program. Students who complete either program successfully will be eligible for a University Certificate in Social Media.
Each program runs from March to May 2020. Students can register at any point and work at their own pace, as long as each course is completed within the program period.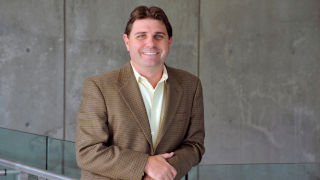 Both social media courses will be led by Associate Professor Dan Ladik, who teaches social media marketing at the Stillman School of Business.
Why Choose Seton Hall's Social Media Certificate Program?
Accessible material: Each module contains content catered to your level of familiarity with social media.
Learn from the experts: Industry professionals who have worked at LinkedIn, VaynerMedia and Today's Business – along with talented instructors from Seton Hall— conduct the Advanced-Skills modules.
Competitive advantage: Certified by Quality Matters, these programs meet national and international standards for online learning.
Access to professor: Professor Ladik will be available both virtually and on campus at set times for "live office hours."
Special pricing: Discounts are available for current Seton Hall students and employees, as well as alumni.
"Students spend hours and hours using social media but aren't really sure how to use it from a business perspective. They need their certifications," says Ladik. "The Foundation Course is an excellent way for people to familiarize themselves with the terminology and some introductory strategies, while the Advanced-Skills Course is great for an executive who is looking for a career switch into social and digital, or a small business owner or entrepreneur who needs to hit the ground running."
Instructors in the program are a talented mix of social media experts and professions both in and outside Seton Hall. They include:
Danielle Mirliss, Adjunct Professor of Education Studies
Milan Stanic, Director of IT Communications
Brent Eppley '14, Account Manager at Today's Business
Noel Girgenti Pescetto '15/M.B.A. '17, former Analyst at VaynerMedia and current Influencer Marketing Manager at Gallery Media Group
Forrest Old, Senior SEO Strategist at Today's Business
Dan Swift, former SVP of LinkedIn and current CEO of Empire Selling
Raj Trivedi, Director of Digital Advertising at Today's Business
Continuing Education and Professional Studies provides numerous opportunities for those who wish to enhance their education, expand their skill set, or pursue new interests. Its programs and training workshops focus on cutting-edge subject areas and trending topics and are offered either on campus, off-site or online. With its diverse offerings of credit, non-credit, degree, professional certificate and training programs, CEPS helps job-seekers and truth-seekers alike learn what works to enhance their lives, improve the world and achieve success in their careers. Its programs are taught by distinguished University professors and leading practitioners in the field. Schedules are flexible and designed for the working professional or the adult student.
Categories: Arts and Culture , Business , Education