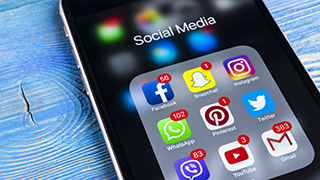 As we reflect on the COVID-19 pandemic, many would agree that a solid social media strategy was never more crucial that it has been over the past few months. If 2021 is the year you resolve to enhance your social media skillset, Seton Hall may offer just the opportunity you're seeking.
This spring, the University's Division of Continuing Education and Professional Studies (CEPS) will once again launch its online Certificate in Social Media program focused on skill building in social media. Certified by Quality Matters, the program consists of two courses designed for different levels of familiarity.
The Foundation course in Social Media is for true beginners interested in navigating top-tier social media platforms including Facebook, Instagram and Twitter. The Advanced-Skills course is designed for managers and strategists who are already engaged with popular platforms and want to better use social media as part of their digital strategies. Students looking to place directly into the Advanced-Skills course must have already taken the Foundation course or must complete a short pre-assessment.
Either course may be taken January 25-March 19, 2021, or March 22-May 14, 2021.
As a student in the program, you may work at your own pace as long as each course is completed within the designated program period. Students who complete either course successfully will be eligible for a University Certificate in Social Media.
Both courses are led by Associate Professor Dan Ladik, who teaches social media marketing in the Stillman School of Business and was a member of the Social Media Team for the 2014 NY/NJ Super Bowl Host Committee. The Advanced-Skills course is also taught by industry professionals from LinkedIn, VaynerMedia and Today's Business.
About CEPS
Whether you want to enhance your education, expand your skillset or pursue new interests, Continuing Education has opportunities for you to explore. We provide superior programs and training in cutting-edge subject areas and trending topics, either on campus, off-site or online. 
Continuing Education, with its diverse offerings of credit, non-credit, degree, professional certificate and training programs, helps job-seekers and truth-seekers alike learn what works to enhance their lives, improve our world and achieve success in their careers.
Our programs are taught by distinguished University professors and leading practitioners in the field. Schedules are flexible and designed for the working professional or the adult student with a busy life. We offer corporate and small business training, small group and independent learning.
Categories: Education