Friday, November 19, 2021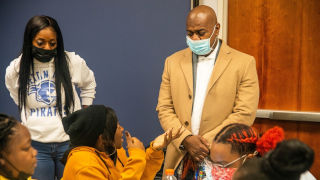 Newark Mayor Ras Baraka with Jamila T. Davis and students in the Social Justice Certificate Program at Seton Hall
With a panel of judges that includes the associate director of Change.org, public officials from East and South Orange, and the director of Strategic Projects at EmblemHealth, one of the largest not-for-profit health insurers in the nation, Seton Hall's Social Justice Certificate program is set to hold a Shark Tank style competition to determine – and fund – the best community-based solution for a local issue. The competition will be held at 6 p.m. on Monday, November 22 on the University's South Orange campus.
Spearheaded by Jamila T. Davis as the Practitioner in Residence for the Center for Community Research and Engagement at Seton Hall, the Social Justice Certificate program has brought community members together to learn from experts, each other and a curriculum that historicizes the context of the Black and urban experience in America.
Social Justice Certificate Program
The Social Justice Certificate program is a collaboration between the Center for Community Research and Engagement at Seton Hall, the South Orange Community Care & Justice program and Newark's Office of Violence Prevention and Trauma Recovery. Believed to be one of the first of its kind in the nation,the certificate program has been co-led by Seton Hall Professor Juan Rios and has featured presentations by Jamila T. Davis; Until Freedom's Angelo Pinto, Esq.; Seton Hall Professor Kelly Harris and Dean Georita M. Frierson of the College of Arts and Sciences; Professor Bahiyyah Muhammed of Howard University; LaKeesha Eure, director of the Office of Violence Prevention and Trauma Recovery, and Until Freedom's Tamika Mallory, Mysonne Linen and Linda Sarsour.
Learning from Yale Professor of Public Health Ijeoma Opara and Newark Mayor Ras Baraka
Last week, Yale Professor of Public Health Ijeoma Opara and Newark Mayor Ras Baraka also presented to the students, helping them prepare for their presentations.
Professor Opara is a public health researcher whose focus is on HIV/AIDS, STI and substance use prevention for urban youth, racial and gender specific prevention interventions for Black girls, and community-based participatory research with urban youth. Opara was named the 2020 recipient of the NIH Director's Early Independence Award, which funds her 5-year community-based study on youth substance use, mental health outcomes, and neighborhoods in Paterson, New Jersey.
Dr. Opara stressed to the students the importance of a data-driven approach to analyzing problems as well as potential solutions – and the importance of listening to the community. She noted that whatever expertise she and her team may bring to the community, "it is the community that is the expert on the community."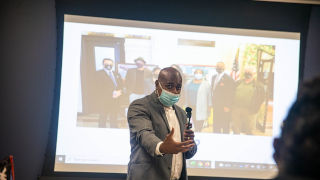 Mayor Baraka agreed with Dr. Opara's community and data-driven approach and emphasized the importance of research in the process of program inception as well as collaboration, an understanding of cost and a plan for sustainability.
Baraka has been at the forefront of the movement in the United States to reallocate resources earmarked specifically for policing to other means of addressing public safety and well being – including the use of credible messengers as community violence interrupters, social workers and the formation of the Office of Violence Prevention and Trauma Recovery, which is dedicated to violence suppression as well as healing, peace and recovery from systemic and more personal forms of oppression.
"I was impressed with what I saw at Seton Hall," said Mayor Baraka. "These students, many of whom work for the City of Newark, have gone above and beyond to put themselves in a position to better themselves and their community. They learned their history and now, through the course's focus on social justice, they'll have an opportunity to create a better future."
$5000 Award to Implement Best Project
In addition to history and theories of social justice, the Social Justice Certificate program at Seton Hall emphasizes "actionable knowledge" and seeks to empower its participants as "changemakers" in search of equity and community well being.
To that end, participants in the class were split up into cohorts of five or six team members each who have dedicated themselves to solving particular problems within their communities. These programmatic solutions will be presented before a panel of judges on the last day of class and the team with the winning proposal will receive $5,000 to implement their program.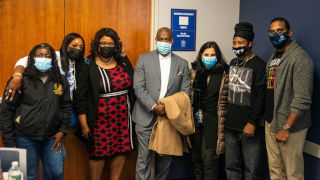 The classes are held on Seton Hall's campus but include a large online contingent from Brooklyn (many from Man Up! Inc., a nonprofit dedicated to building safer communities through violence prevention, education, employment and the use of credible messengers) as well as South Orange, Connecticut and as far away as Cleveland, Ohio and California.
Projects in the class include a campaign against gender-based violence, an initiative that utilizes video storytelling and social media to emphasize the humanity of police officers and members of the community, a program designed to bring healthy food choices to those who live in a "food desert," a reentry resource guide, a financial literacy project and a gun violence prevention campaign.
"This certificate program is about opportunity and access – and the skillset necessary to make it count," said Davis. "It's a class on Civics and grassroots empowerment really, updated to reflect the realities of the 21st century urban landscape. This first run has been a tremendous success and the work that comes out of it within our communities will resonate for a long time to come. We have proof of concept, but now we need to sustain and grow."
Categories: Arts and Culture , Education