Speaking Truth to Power: How Faith Can Get a Fair Hearing in Today's Media
with Award-Winning Religion Journalist David Gibson
Presented by the Institute for Communication and Religion
Please join the Institute for Communication and Religion within the College of Communication and the Arts for Speaking Truth to Power: How Faith Can Get a Fair Hearing in Today's Media, which will feature award-winning religion journalist David Gibson delivering his keynote address "Telling the Old, Old Story in a Brand-New World." Join the conversation with #SHUSpeakingTruth.
Tuesday, April 24, 2018
6:30-8:30 p.m.
Bethany Hall Auditorium
The evening will also include an interreligious panel discussion, a Q&A session, and a meet and greet opportunity. The event is free and open to the public. Pre-registration is strongly encouraged. Refreshments will be served.
Student Challenge
Prior to the event, University students are invited to enter the Institute's "Tell Your Communication and Religion Story" Challenge. Students can submit a creative piece that illustrates the relationship between communication and religion in a communication and the arts medium including, but not limited to, a:
painting
photograph
video
speech
public relations campaign
song
Submissions should be sent via email to ICR@shu.edu by Friday, April 20. All submissions will be displayed at the event. The winner, who will be selected via audience live poll, will receive an exclusive Seton Hall gift basket and be recognized during the program.
About the Keynote Speaker: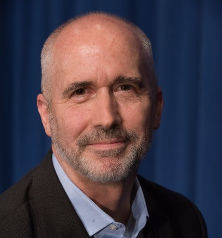 David Gibson was appointed the director of Fordham's Center on Religion and Culture in July 2017, coming to New York's Jesuit university after a long career as an award-winning religion journalist, author and filmmaker. He's also a convert to Catholicism, and he came by all those vocations by accident, or Providence, while working at the English Program at Vatican Radio in Rome in the late 1980s.
Gibson, a native of Plainfield, New Jersey, returned to the United States in 1990 and worked for the Bergen Record and then the Star-Ledger, as well as writing for various magazines. He also co-wrote and co-produced several documentaries for CNN and the History Channel.
He is the author of several books on the Catholic Church; most recently, he was a contributor, along with Cardinal Joseph Tobin, to A Pope Francis Lexicon, a book-length collection of essays on the pontiff's use of language to communicate his mission. Gibson is also the co-author of a book on biblical archeology, Finding Jesus: Faith. Fact. Forgery, that was the basis of a popular CNN series of the same name.
Before coming to Fordham, Gibson was a national reporter at Religion News Service specializing in coverage of the Vatican and the Catholic Church.
He lives with his wife and daughter in Brooklyn.
To learn more about the Institute for Communication and Religion, please click here.