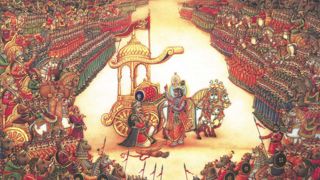 Seton Hall University will co-host the International Gita Symposium 2020, "The Bhagavad Gita and Humanity Today," online on August 14, 2020. A partnership between the Gita Jayanti Committee, Singapore, and Seton Hall University's Institute for Communication and Religion (ICR), this virtual forum brings international scholars and faith leaders together to explore practical wisdom shared in the Bhagavad Gita, an ancient Hindu spiritual masterpiece. 
Seton Hall has a strong history of interfaith collaboration, and the Bhagavad Gita has been taught as a Core text required of all Freshmen since 2006. This event will feature both expert presentations and audience questions to help connect timeless wisdom to contemporary challenges.
The event will be simulcast by Shemaroo, a leading media and content distribution company in India.
Members of Seton Hall faculty participating in the event include A. D. Amar, Ph.D., Professor of Management, Stillman School of Business; Michael Stebbins, Ph.D., Toth/Lonergan Visiting Professor in Interdisciplinary Studies; Jon Radwan, Ph.D., Director - Institute for Communication and Religion; and Rabbi Alan Brill, Ph.D., Cooperman/Ross Endowed Chair for Jewish-Christian Studies.
ICR Director Jon Radwan is looking forward to the event with great excitement. "Seton Hall's Institute for Communication and Religion is kicking off its fourth year with our biggest event yet, our online International Gita Symposium." He added, "As the entire planet faces the COVID pandemic, collaborating across faith traditions has become more important than ever. The Gita shares deep lessons on unity, duty, and equanimity that can share spiritual light in challenging times."  
Guest speakers include Mr. G. Srinivasan, Chairman, Gita Jayanti Committee, Singapore; Swami Sarvapriyananda, Minister and Spiritual Leader of Vedanta Society of New York; Swami Samachittananda, President of Ramakrishna Mission, Singapore; Professor Vineeta Sinha, Head of Department of Sociology, National University of Singapore; and Mr. Mohamed Imran, Director of Centre for Interfaith Understanding, Singapore.
This online event will be held 8 - 10 a.m. (EDT time) and is free and open to the public. All who are interested in understanding the wisdom of The Bhagavad Gita and appreciating its contemporary relevance are invited. Non-Hindus are especially welcome.
For speaker bios and to register for the event, visit here.
Categories: Nation and World