Program
Welcome
Dr. A.D. Amar, Professor of Management, Stillman School of Business, Seton Hall University, USA
Greetings
Mr. G. Srinivasan, Chairman, Gita Jayanti Committee, Singapore
Moderator
Dr. Mike Stebbins, Toth/Lonergan Visiting Professor in Interdisciplinary Studies, Seton Hall University, USA
Presentations
"Inter-Religious Inclusivity and The Bhagavad Gita" by Dr. Jon Radwan, Director - Institute for Communication and Religion, Seton Hall University College of Communication and the Arts, USA. Inclusivity is an important theme in twenty-first century thought on sustainability and development. Where modern socio-political theory stressed independence and autonomy, global communication and technology revolutions have made a holistic systems perspective stressing inter-dependence and balance into a requirement for postmodern organizations. With this new attention to being-in-relation secular global society may be coming to align with deep spiritual values. In the Catholic tradition Vatican II explicitly called for inter-religious dialogue and cooperation, and at Seton Hall University one way we strive to advance this goal is requiring the Bhagavad Gita of all freshmen. This talk examines the Gita's teaching on unity and how to engage one another in light of scripture.
"Bhagavad Gita and Interfaith Theology" Rabbi Alan Brill, Cooperman/Ross Endowed Chair for Jewish-Christian Studies, Seton Hall University, USA. Interfaith theology, especially comparative theology is a important means of creating interfaith interconnection and understanding. In comparative theology, one focuses on the theological reflection of one's own religion in light of the insights from another religious tradition. Rather than emphasizing a religiously detached position, comparative theology is deeply rooted in a particular religious tradition. Comparative theology – comparative and theological beginning to end – marks acts of faith seeking understanding. One ventures into learning from other faith traditions. This learning is sought for the sake of fresh theological insights that are indebted to the newly encountered tradition as well as the home tradition. In my talk, I will be using my own religion of Judaism as a base, looking to what I can learn from the Bhagavad Gita. I will specifically look at Karma, Bhakti, and Jnana Yoga, as well as the role of God. The talk will culminate in looking at the theophany of the Vishvarupa compared to Moses' vision.
"The Bhagavad Gita applied to mankind today" Swami Sarvapriyananda, Minister and Spiritual Leader of Vedanta Society of New York of Ramakrishna Mission, New York, NY, USA. The problem of self-management has been a perennial question for humanity in general, and for religions in particular. Why is it that we are often unable to do what we know to be good? Equally, why is it that we often end up doing what we know to be not good? The Bhagavad Gita raises this question in verses 3.36 and searches for deep answers in verses 3.37-43. The talk will track how these verses develop a profound soteriology with incisive psychological and philosophical insights. This section is of interest not only to theology and philosophy of religion, but also to modern positive psychology and human resource management.
"The Bhagavad Gita and spiritual life" by Swami Samachittananda, President of Ramakrishna Mission, Singapore. Scriptures bring us the knowledge which our senses are unable to provide. At every level of our life we can learn from The Gita. It is up to the individual how he/she wants to utilize the message of The Gita. Ultimately it is 'Brahma Vidya' that is the knowledge of oneness and it is 'Yoga Shastra', the scripture which unites us with our higher dimensions.
"The Bhagavad Gita: Manual for Modern Living" by Professor Vineeta Sinha, Head of Department of Sociology, National University of Singapore. This talk examines recent efforts that have been made to present the Bhagavad Gita, as a meaningful manual for modern living. Many thinkers have argued that the ethical principles embodied in the text, conventionally seen as carrying a moral religious philosophy, are indeed relevant for negotiating fields of economy and business in the present. In abstracting strategic thinking from the Bhagavad Gita that can translate into principles of management, human relations and entrepreneurship, the text is presented in a new light.
Online Quiz on audience's knowledge of The Bhagavad Gita
Vote of Thanks
Mr. Mohamed Imran, Director of Centre for Interfaith Understanding (CIFU), Singapore
Questions:
Contact Jon Radwan, Director of the Institute for Communication and Religion, at Jon.Radwan@shu.edu
Speaker Bios
A specialist in knowledge organization and management theory, Dr. A. D. Amar (Amar Dev Amar) received the 2013 Carolyn Dexter Finalist Award of the Academy of Management and 2010 NJBIA Bright Idea Award in Management of the NJPRO Foundation of New Jersey Business and Industry Association (NJBIA). He has more than 130 publications and more than 100 presentations. Among his books is an edited volume Managing by the Bhagavad Gita (Springer 2018). He has been Director of SHUCAP, Director of MBA Assessment, Department Chair and Editor/Director of the Mid-Atlantic Journal of Business for 12 years. He served on the faculties in the USA, India, United Kingdom, Russia, Poland, and China. 
J. Michael Stebbins, Ph.D., was appointed Seton Hall University's Toth/Lonergan Endowed Visiting Professor for the 2020-2021 academic year. Dr. Stebbins' areas of expertise include systematic theology, ethics, human cognition and decision-making, and the theological and philosophical work of Bernard Lonergan.
Jon Radwan is Director of the Institute for Communication and Religion in Seton Hall University's College of Communication and The Arts. He earned a B.A. in Communication from the University of New Hampshire, an M.A. in Communication Studies from Northern Illinois University, and a Ph.D. in Speech Communication from Penn State University. His teaching and research focus on the intersection of Rhetoric and Religion, examining how ancient traditions influence contemporary public discourse.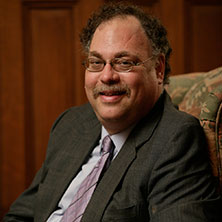 Dr. Alan Brill is the Cooperman/Ross Endowed Chair for Jewish-Christian Studies at Seton Hall University, where he teaches Jewish studies in the Department of Religion and the Jewish-Christian Studies Graduate Program. He specializes in interfaith theology, Jewish mysticism, modern Jewish thought and contemporary Jewish Orthodoxy and offers courses in medieval and modern Jewish thought, Jewish mysticism, interfaith encounter and Jewish theology.

Swami Sarvapriyananda is a prolific speaker and published scholar who currently serves as the Minister and Spiritual Leader of the Vedanta Society of New York, an organization affiliated with the Ramakrishna Order of Hinduism. Since taking over the VSNY — which is the oldest society of its kind in the United States — in 2017, Sarvapriyananda has spoken on a range of religious issues such as "Spiritualizing Everyday Life" and "Karma and Freedom" at locations across the country.
Swami Samachittananda is the current President of Ramakrishna Mission Singapore. He is also a Council Member of Singapore's Inter-Religious Organization.

Vineeta Sinha is Head of Department at the Department of Sociology at National University of Singapore (NUS). She obtained her Master of Social Sciences from NUS and her Master's and Ph.D. in Anthropology from Johns Hopkins University. Her research and teaching interests include the following areas: Hindu religiosity in the Diaspora; religion-state encounters; religion, commodification and consumption practices; history and practice of sociology; critique of concepts and categories in the social sciences; rethinking the teaching of classical sociological theory.

A chartered accountant by profession, Mr. G Srinivasan has served as the Director of Singapore operations in a multinational trading company for 20 years. He also serves the General Manager and Financial Advisor for a group of companies with diversified operations in SE Asia till recently. In addition, Srinivasan is active in the religious and music circle, serving in positions on organizations like Singapore Indian Fine Arts Society (SIFAS), Singapore Dakshina Bharata Brahmana Sabha (SDBBS) and, most recently, Gita Jayanti, as the Chairman of the HEB (Hindu Endowments Board) Sub-committee.

Mohamed Imran Mohamed Taib is a founding Board member of the Centre for Interfaith Understanding in Singapore. He is former manager of Harmony Centre under the Islamic Religious Council of Singapore, and an associate research fellow at the Studies in Interreligious Relations in Plural Societies programme at S Rajaratnam School of International Studies. Imran is an interfaith advocate, facilitator and writer. He is co-editor of Budi Kritik (2018, Ethos Books), a compilation of critical essays on Malay society. Some of his writings have been published in Channel NewsAsia, Today, The Straits Times and South China Morning Post. He recent essay, "Singapore's Interfaith Landscape" was published in Fahy and Bock, eds., The Interfaith Movement (with Paul Hedges; Routledge, 2019). Imran is a graduate in philosophy and currently runs a community philosophy initiative in Singapore.