About the Event
There are no two bigger names in sports media than Bob Costas and Bob Ley. The two iconic broadcast journalists came to Seton Hall's South Orange campus to discuss the ever-changing landscape of the sports media industry. Some of the topics included adapting and evolving as storytellers, the evolution of social media and its impact on journalism and the reasons why solid reporting will always be the foundation for success. In addition, students and student-athletes joined the discussion later in the program, followed by a Q&A with the audience. Pirate Sports Network livestreamed this event - see link above to watch.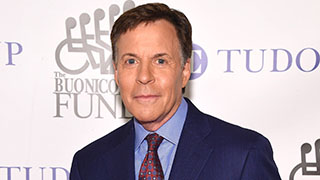 Bob Costas
Bob Costas has won 26 Emmy awards, more than any sports broadcaster. His versatility has been recognized with awards and nominations in the categories of hosting, play-by-play, writing, journalism, news, and entertainment. He is the only person ever to have won Emmy's in news, sports, and entertainment. His news Emmy was awarded for his interview with Jerry Sandusky, the central figure in the Penn State scandal. His entertainment Emmy came in 1993 for his acclaimed late night program Later with Bob Costas.
Bob's peers have named him the "National Sportscaster of the Year" a record eight times, and in 2012, he was elected to the National Sportscasters and Sportswriters Hall of Fame. Also in 2012 Bob was selected for the Walter Cronkite Award for distinction in journalism. He and Al Michaels are the only sports broadcasters to be so honored.
From the Baseball Game of the Week in the 1980's, through his hosting of the Olympics, the late night interview program Later … with Bob Costas, his programs on HBO, and more, Bob has been a prominent part of the coverage of every major sport over the past three decades. His thoughtful commentaries on a variety of issues have established him as one of his generation's most distinctive voices.
The 2014 Sochi Russia Winter Olympics were Bob's 11th for NBC. In addition he has hosted seven Super Bowls, and has been part of the coverage as either play-by play announcer, or host of seven World Series, and ten NBA Finals. Bob has been a prominent part of NBC's presentations of other major events, such as the Kentucky Derby, Preakness, and Belmont, as well as the U. S. Open Golf Championship.
Beyond NBC, Bob's work with HBO, and Major League Baseball Network have drawn widespread praise. In 2000 Bob's book, Fair Ball, a Fan's Case for Baseball spent several weeks on the New York Times best seller list. His collaborations with Joe Garner on a series of coffee table books and audio sports histories have also been best sellers.
A native of Queens, New York, Bob grew up on Long Island. He attended Syracuse University in New York, where he majored in communications. He began his professional career at WSYR-TV and radio in 1973 while studying at Syracuse before joining KMOX radio in St. Louis in 1974. He spent 40 years at NBC and is currently a commentator for MLB Network.
Bob Ley
Bob Ley '76 recently retired from ESPN after a distinguished career that spanned nearly 40 years. He was best known as the host of Outside the Lines, which focuses on issues beyond the playing field. The show has been honored with multiple awards over the years including 11 Sports Emmys, a DuPont Award, and a Peabody Award. Ley was recognized with the Sports Emmy for outstanding studio host in May 2018. Ley was recently inducted to the National Sports Media Association Hall of Fame. A champion for the College of Communication and the Arts, Ley visits campus frequently to lecture, teach master classes and works directly with students on various projects.
4 p.m.  
Welcome and Opening Remarks
B.J. Schecter - Veteran Journalist and Professional-in-Residence in the College of Communication and the Arts
 
Introduction of Bob Costas
Presentation video reel created by Visual and Sound Media students under the direction of Bob Ley.
 
Conversation: The Changing Face of Sports Media    
Bob Ley and Bob Costas discuss the evolution of Sports Media, adaptive storytelling and how the introduction of social media impacted the journalism landscape.
 
Student Perspectives
Selected students from the College of Communication and the Arts and the Stillman School of Business join the conversation with Ley and Costas on stage.
 
College Athlete Vantage Point
Seton Hall University athletes join the conversation to provide commentary from the student athlete vantage point. 
 
Audience Q&A
5:30 p.m.
Closing Remarks
B.J. Schecter