Pirate Television (Pirate TV)
Pirate Television (Pirate TV) is the student-run and student-managed news station of the College of Communication and the Arts and Seton Hall University. It is the only broadcast network on campus created by the students and for the students. Pirate TV provides students with first-hand experience in creating a professional-grade news product on both sides of the camera.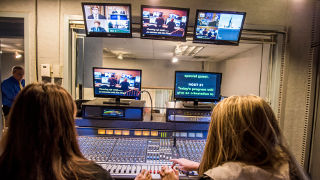 Started in 1990, Pirate TV develops skills outside the classroom, preparing students to produce broadcast work in real-time. Pirate TV actively reports content every week. Monday through Wednesday, the station reports local and international news; weather; and sports. On Thursdays, the station hosts Hall Talk, a panel discussion dedicated to Seton Hall sports.
Pirate TV is open to all students, regardless of major. After completing orientation, students learn the layout of the program and can specify which areas they would like to learn more about. Students can experience different positions, easily discovering their broadcast niche.
On-camera positions include:
Main anchor
Sports anchor
Weather anchor
Hall Talk host
Hall Talk panelists

Hall Talk reporters (interviewing student-athletes post-game)
Off-camera positions include:
Director
Associate director
Producers
Floor managers
Camera operators
Switcher
Chyron operator
Tape operator
Shader
Audio operator
Prompt operator