Director Wilnir Louis poses on Teerner Field in Union, N.J. at the conclusion of the matchup between Union and Elizabeth during pool play on July 15, 2020. (Photo credit: Rony Jerez)
For months, people have been eager for sports to return safely after professional, collegiate and high schools sports were shut down due to the coronavirus. Luckily for those who are passionate about baseball, the New Jersey Last Dance World Series has provided fans in the Garden State live sports since July 14. The tournament has given high school baseball players another opportunity to play, and WSOU student broadcasters another chance to do what they enjoy most. After covering pool play games and the first two rounds of single elimination on WSOU's online streams, the remaining tournament games will be heard on 89.5 FM starting July 28.
"Being able to broadcast and see live sports once again after everything that has happened has been honestly surreal," said WSOU's sports director Wilnir Louis. "We've had to deal with months of uncertainty regarding sports, but we were finally able to see it return. To be able to get back on the air to practice the craft of calling a game as been a real morale booster for me and others in my sports department." 
The Last Dance World Series is the brainchild of Mike Murray, the athletic director and baseball head coach of St. Joseph High School in Metuchen, N.J. His intent was to give high school seniors and players a final chance to play with their high school teammates and coaches after the 2020 season was cancelled. In all, 222 teams agreed to participate in the tournament, with 116 teams playing in 29 regions in the North division and 106 teams playing in the South division. After three games of pool play, undefeated teams then went to single elimination with 16 teams on the North and another 16 for the South. Throughout the tournament, teams are battling to become the North or South champion, and those two teams will face each other at Arm & Hammer park in Trenton, N.J. to become the Last Dance Champion. Arm & Hammer park is the home of the Trenton Thunder, the New York Yankees' Double A minor league club.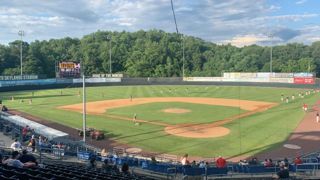 A photo of Skylands Stadium in Augusta, N.J. prior to the pool game matchup between Sussex Red and Sussex Blue on July 14, 2020. Skylands Stadium will also be hosting the North championship game, one of the games that will be aired on 89.5FM. (Photo Credit: Wilnir Louis)
"This is a great opportunity for our broadcasters to be able to do what they love, calling games," said station manager Michael Daly, who is also on the sports department staff. "WSOU and WSOU Sports are very fortunate to cover the New Jersey Last Dance World Series because it is not only a getaway from the reality of pandemic life for our broadcasters but the listeners are able to escape for a few hours as well. The games being broadcasted on the FM airwaves open our coverage to a larger audience and we can take advantage of a tournament that is not widely covered on the radio. We are truly thankful for the hard work of sports director Wilnir Louis and our Last Dance broadcasters for working tirelessly to make our coverage possible." 
WSOU will be broadcasting three games on 89.5 FM, starting with one of the two semifinal games for the North championship on Tuesday, July 28 at 1 p.m. Coverage will continue with the North championship on Wednesday, July 29 at 7 p.m., and conclude with the Last Dance Championship Friday, July 31 at 7 p.m. from Arm & Hammer Park. Tournament updates with start times can be found on the WSOU Sports Twitter feed @WSOUSports. 
"With social distancing and spectator limits, broadcasting these games on FM is a way that WSOU and Seton Hall University can give back to the community," noted General Manager Mark Maben. "By tuning in to 89.5 or listening via wsou.net, parents and fans can experience the excitement of the tournament's culmination. After all New Jersey has been through during the pandemic, these broadcasts are a reminder that we can all find some joy and comfort in America's pastime."
About WSOU
Housed in the College of Communication and the Arts, WSOU 89.5 FM, which began broadcasting in 1948, is the student-run radio station of Seton Hall University. Celebrated for its loud rock format and coverage of Seton Hall athletics, WSOU's signal reaches all five boroughs of New York City and much of northern and central New Jersey and is available on iHeartRadio. WSOU was the 2016 winner of the National Broadcasters Association's Marconi Award for Noncommercial Station of the Year and a 2019 nominee for the Marconi Award for Best College Radio Station. More information about the station can be found online at https://www.wsou.net and https://www.facebook.com/WSOUFM.
Categories: Arts and Culture , Campus Life