Wednesday, December 1, 2021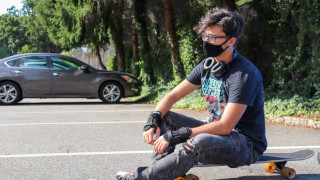 SHU Senior Val Petrarca
Seton Hall University senior and WSOU radio station DJ, Valentino (Val) Petrarca, reached a historic record of one hundred interviews this past August. Petrarca is the first person to celebrate this WSOU milestone, marking an impressive feat over the course of his four years working with the acclaimed radio station. Petrarca began his journey with WSOU in fall 2018. His first interview was with The Clay People, an American Rock band from Albany, New York. Since then, Petrarca has interviewed countless musicians including Mike Kroeger of Nickelback, Joe Principle of Rise Against, and popular alternative rock band, The Strokes.
"What gives me the most joy is talking to artists. As a freshman I always said one hundred interviews would be a dream but never thought it would actually happen, and now it's happened, even before graduation which is insane!" Petrarca remarked about his journey. Music has been Petrarca's leading passion since he was in high school. When he first received Fall Out Boy's "Folie A Deux" on vinyl at the age of thirteen, he began to interpret music as an artistic endeavor, finely tuning-in to the transcending layers of instruments, vocals and melodies. Throughout his time in high school Petrarca spent his weekends at concerts, calculating just how many live shows he could afford to get to with his weekly paycheck.
As the current music director at WSOU, Petrarca's relationship with the industry is personal and professional. To him, music is inspirational, empowering and unique. Upon deciding to attend Seton Hall University, he immediately felt at home at WSOU's radio station. He quickly introduced himself to then-Music Director Katie Wilson, requesting to take on a role as an interviewer. Soon after, Petrarca began to work as an assistant for Music Director Nick Pollis, travelling across the country to interview emerging and well-known musicians.
"Learning how to steer the conversation, get people excited, maneuver changes in tone, conduct research, and also how to interject your personal opinions are all skills that take practice," said Petrarca. "It is so much fun to dive into a creative mind and get other people enthusiastic about it. All I want to do is help the music community. When art is strong, everyone thrives."
For his 100th interview, Petrarca interviewed Neil Westfall, a rhythm guitarist for the popular band A Day to Remember. The two discussed the band's re-entry into touring since the onset of the Coronavirus in 2019, the release of new album "You're Welcome", and the creative direction of the band's next generation of music. Petrarca's interview with Neil Westfall was especially meaningful, beyond the 100th milestone. "I saw [A Day to Remember] live for the first time in 2016 with Blink 182 when they were just tiny dots on a stage. Having a full 20-minute conversation with Kevin in 2019 and Neil as number 100 last month was life-changing. It truly felt like a full circle moment."
One of his WSOU colleagues, Sales Manager Jennifer Kajzer, celebrated with Petrarca in his major achievement. "Val was determined to hit this milestone for quite some time and to see it come to fruition makes us all proud!" she said.
Valentino Petrarca's interviews can be found on WSOU Youtube Channel or on Apple Podcast. Valentino also promotes his work on his Instagram page and LinkedIn profile.
WSOU 89.5 FM, which began broadcasting in 1948, is the student-run radio station of Seton Hall University. Celebrated for its loud rock format and coverage of Seton Hall athletics, WSOU's signal reaches all five boroughs of New York City and much of northern and central New Jersey and is available on iHeartRadio. WSOU was the 2016 winner of the National Broadcasters Association's Marconi Award for Noncommercial Station of the Year and a 2019 nominee for the Marconi Award for Best College Radio Station. More information about the station can be found online at the WSOU website and the Facebook page.
Categories: Arts and Culture