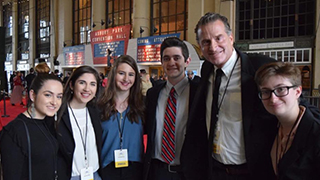 WSOU staffers (from left) Tayla Frey, Jocelyn Rogalo, Justine Strzepek, Robert Towey and Rachel Haggerty with Glenn Schuck on the NJHOF red carpet in Asbury Park, N.J.
Being on the red carpet is often a dream – but, for five WSOU 89.5 FM student staff members, it became a reality during the 2018 New Jersey Hall of Fame (NJHOF) Induction Ceremony.
Alongside College of Communication and the Arts' Professional-in-Residence Glenn Schuck, WSOU staffers Robert Towey, Jocelyn Rogalo, Rachel Haggerty, Tayla Frey and Justine Strzepek covered the 10th Annual Red Carpet NJHOF Induction Ceremony held in Ashbury Park, N.J. on May 6, 2018. Glenn Schuck, who teaches, works with and mentors WSOU news students in the station, served as the evening's Red Carpet master of ceremonies by introducing VIPs, inductees, presenters and sponsors. Schuck was integral in bringing WSOU to the ceremony.
The students interviewed honorees directly on the red carpet including musician and actor Steven Van Zandt of Bruce Springsteen's famed E Street Band, the band Four Seasons and BLONDIE's singer-songwriter Debbie Harry, among others. The interviews and takeaways were later featured in the weekend broadcast of WSOU's Pirate News Desk.
Tayla Frey and Jocelyn Rogalo capturing red carpet moments.
Jocelyn Rogalo '19, the station's 2017 news director, highlighted how inspiring the professional experience was and how uplifting it was to listen to the inductees' memories of their N.J. upbringing. "It was a nerve-wracking experience being at my first red carpet with [news] professionals around, but Mr. Schuck made sure we knew what to expect," shared Rogalo. "I was able to interview the best of New Jersey and watch the ceremony with the WSOU team. It was one of my favorite moments from the college thus far."
Rachel Haggerty and Robert Towey interviewing Steve Van Zandt on behalf of WSOU.
Without a dull moment, the evening exposed the students to in-person interview experience, the fast paced environment and an understanding of how important preparation is. "There's no room for mistakes. You have to act quickly and act intentionally. Celebrities are well-seasoned and well-versed for interviews – they don't have the time or patience for mistakes, especially when other news sources are fighting for the interview," noted Rachel Haggerty, a senior Broadcasting and Visual Media major. As the team's technician, Haggerty ensured all materials were properly working and serving as camera operator while interviews were being conducted.
Having an industry professional like Glenn Schuck as a mentor, students are able to work directly alongside business experts while narrowing their career interests. "Being able to give our students access to such programs does wonders to enhance their education. Combined with the opportunities to be hands-on so early in their academic careers, the College's and WSOU's focus on experiential-learning sets our students apart upon graduation," said Mark Maben, WSOU's general manager. "Working with the news department, Mr. Schuck has helped our staff members become more confident on-air and while reporting in the field," said Rogalo, one of Schuck's mentees. "It's been incredible talking and learning about radio and news as a career."
This was the student-run and student-managed station's first year covering the induction ceremony. With more than 1,500 in attendance, this ceremony celebrated 14 new honorees including actress Meryl Streep, publishing executive Steve Forbes and Major League Baseball player Al Leiter. Previously, WSOU student staff members reported on the red carpet in 2017 during the Alternative Press Music Awards and the Revolver Music Awards.
For more information about WSOU 89.5 FM or ways to get involved, please visit http://www.shu.edu/communication-arts/wsou.cfm or the station's website at www.wsou.net.
Categories: Arts and Culture