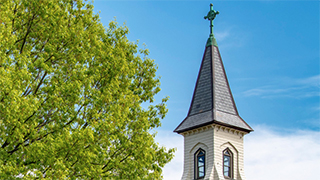 This Spring, the inaugural Viviani Scholarship was awarded to four active Theatre students in the College of Communication and the Arts – all of whom engage with different productions, as well as the Theatre Council and other campus activities. The Joseph S. ('51) and Ann Viviani Endowed Scholarship is a gift from the Estate of Joseph Viviani, who was a member of the Screen Actors Guild and served as president of the Raritan Bay Auxiliary. 
Viviani endowed this scholarship with hopes of helping the College build its scholarship portfolio and to support students enrolled in the Theatre program. The four undergraduate winners of the scholarship are all students studying theatre and participating in theatre activities inside and outside the College. Ciara L. Scott, a senior at Seton Hall, is a Theatre major minoring in Musical Theatre. Scott is an active member in the Theatre Council and recently received the title of House Management Chair for the Council. Her first Seton Hall production, the Disney Cabaret, was held on April 30 on campus in the Theatre-in-the-Round. 
Baltimore-native Samantha J. Paradise is a junior Theatre and Public Relations Major and also now two-time president of the Theatre Council, working alongside Scott. Paradise has been featured in a number of shows, playing parts as Don Gianna in Much Ado About Nothing, and Hawkins in Men on Boats. Paradise was also recently nominated to perform at this year's American College Theatre Festival. 
The third recipient, a Theatre major with minors in Psychology and Musical Theatre, junior Kelsey Kaelin has been featured in the children's show "Princess Puffery" and in the Spring musical Edges. She is also on the Theatre Council, where she previously was a member of the event planning committee and will soon serve as the publicity supervisor. In her sorority Zeta Tau Alpha, Kaelin serves as vice president and new member educator and coordinator. In response to receiving the award, Kelsey stated, "I believe that theatre helps students to develop interpersonal skills and cultivates friendships that can last a lifetime. Music has the power to bring us all together and that is important now more than ever. I feel so honored and blessed that I was selected and am truly so appreciate of the support."
The last recipient, junior Adam Wirth, who performed in the show Edges at SOPAC, recently finished his term as secretary and events coordinator for the Theatre Council. He is majoring in both Education and Theatre. In the 2019 Seton Hall production of Much Ado About Nothing, Wirth was casted as Dogberry alongside Samantha Paradise. 
The Joseph S. ('51) and Ann Viviani Endowed Scholarship will be offered annually to incoming and current students pursuing Theatre, and award amounts will vary. 
About the College of Communication and the Arts
Seton Hall University's College of Communication and the Arts offers diverse, flexible undergraduate programs anchored in the humanities, featuring cutting-edge technology and innovative curricula, and provides opportunities for meaningful collaboration across disciplines. Students can explore emerging technologies as well as learn from industry professionals about the latest trends in the ongoing digital revolution that is affecting communication and arts' industries. For more information about the College's undergraduate programs, please contact Amanda Carcione.
The College also offers graduate-level programs in Museum Professions and Communication, including the opportunity to pursue a unique area of study, including options in Public Relations, Digital Communication/Communication Technologies, and Communication in Organizations. In addition, four dual-degree options, including three accelerated master's/B.A. programs and a dual M.A. degree with the School of Diplomacy and International Relations are offered. For more information about Graduate Studies within the College of Communication and the Arts, please contact Ryan Hudes, Ph.D.
Categories: Arts and Culture , Education