The New Jersey premiere of Why They Kill, the award-winning documentary based on the book by Pulitzer Prize-winning author Richard Rhodes, will take place on Saturday, April 28, 2018, at Seton Hall University, the filmmakers are excited to announce.
This one night only event, hosted by the College of Communication and the Arts, will be held in Jubilee Hall on Seton Hall's main campus located at 400 South Orange Avenue, South Orange, N.J. Doors will open at 5:30 p.m., with the screening beginning at 6 p.m. A panel discussion with the filmmakers and author Richard Rhodes will be moderated by Thomas Rondinella, Associate Dean of the College of Communication and the Arts. A reception will immediately follow the screening.
Written and directed by Giuseppe M. Fazari, Ph.D., Why They Kill is a feature length documentary based on the work of renowned criminologist and Seton Hall University Professor Lonnie H. Athens, D.Crim., as chronicled in the critically acclaimed book by Rhodes.
Why They Kill was an official selection of the 2018 Ocean City Film Festival, NY New Filmmakers Film Festival, and received an Award of Excellence in Research from the Docs Without Borders Film Festival. View the official trailer and other updates here.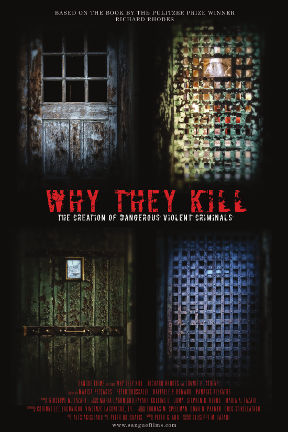 About Why They Kill (2017, 58 minutes) | Written and Directed by Giuseppe M. Fazari, Ph.D.
Why do some men, women, and even children assault, batter, rape, mutilate, and murder? This age-old question led to the breakthrough research and singular theory which comprehensively explains how violent criminals develop, how violent communities are created and transformed, and how violent acts are committed and prevented. Based on the critically acclaimed book by the Pulitzer Prize-winning author, Richard Rhodes, Why They Kill is a startling exploration into the four-step "violentization" process that leads some to attack and murder.
About Giuseppe M. Fazari, Ph.D.
Writer and director Giuseppe M. Fazari, Ph.D., whose work and teaching in the criminal justice field spanned almost 20 years, is currently the Assistant Dean in the Division of Continuing Education and Professional Studies at Seton Hall University. A graduate of Seton Hall University, Fazari was inspired to make the film Why They Kill after reading Rhodes' compelling account of Athens' work. The filmmaker's goal was to convey the violentization theory in a new medium and deliver it to policymakers, educators, practitioners and other stakeholders who can help incorporate the findings into the criminal justice system to make true reform a reality.
Categories: Arts and Culture