Thank God for Monday, hosted by Brother Greg Cellini, features five guests from the Aspiring Kindness Foundation on the Saturday, July 24th, 2021 episode to talk about the organization, as well as their annual golf outing. The show will broadcast from 8:30 a.m. to 9 a.m. on WSOU 89.5 FM., and it can also be streamed from wsou.net and the iHeartRadio app. Additionally, the show will be archived on Apple Podcasts. The five guests on the show will be Jason Tarantino, Tara Hart, Aron Lukacs, Mike Merizio, and Glenn Schuck.
The Aspiring Kindness Foundation is a 501(c)(3) not-for-profit public corporation for purposes of providing financial assistance to support and enhance the abilities of emergency responders and service providers. Their 8th Annual Golf Outing will be Monday, August 2nd, 2021. The event will be held at the Forest Hill Field Club in Bloomfield, NJ and is open to everyone.
Greg Cellini, host of Thank God for Monday, sums up what Aspiring Kindness does best: "sharing the good." It's an important ideal he holds dear as a Franciscan Brother, and one that this organization seems to have embraced in its own way since it was founded in 2010.
"It dates back over 20 years ago," said Jason Tarantino, President and Founder of Aspiring Kindness, as he gives some background early on in the episode about how the organization came to be. "On January 19th, 2000, tragedy struck at Seton Hall University. There was a fatal dormitory fire that had taken the lives of three students, Aaron Karol being one, [as well as] Frank [Caltabilota] and John [Giunta] and injured about sixty students and firefighters." Many of those that helped form the Aspiring Kindness Foundation had been longtime friends of Aaron Karol when he tragically lost his life in the Boland Hall fire back in 2000.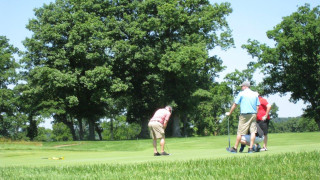 After ten years had passed, the wheels were put in motion to build the organization. "In January 2010 we had decided to form Aspiring Kindness Foundation and all worked together to commemorate the ten-year anniversary by forming the charity, partnering with a group of friends...and ultimately had created the foundation as a means of always being able to remember Aaron, the actual event, and ultimately help to keep the memory alive and turn something negative into a positive," Tarantino states later in the episode.
"Our goal has been from the beginning, to keep Aaron, Frank, and John, everyone's memories [alive], being able to provide assistance to first responders [and] service providers," said Aron Lukacs, who had known Aaron Karol since kindergarten. He also talks about how the annual golf outing has become their main fundraising event and is a tremendous success in helping their charitable efforts. "Whatever we can raise, be it $10 or $10,000, we want to give it back to the community in some way, I think that's our main goal now and going into the future," Lukacs went on to say.
Tara Hart, who now is the Senior Director of Administration in the Division of University Advancement, Seton Hall University, was working in the Housing and Residence Life Office at the time of the Boland Hall fire. "I never personally met Aaron Karol, but I feel as if I've come to know him through his friends, and especially through their relationship I've been able to share with his parents." In the current tumultuous times because of the ongoing COVID-19 pandemic Hart also explains the importance of this foundation: "If this last year and a half has taught us anything, the first responders, the ones who care for the ones who are most in need are the saints walking among us."
Glenn Schuck, 1010 WINS news anchor, CBS New York, who is also a member of the WSOU Hall of Fame and currently is on the station's board of directors, found out about the foundation in 2013 and decided it was something he needed to be a part of. "I give them nothing but praise for what they've done for first responders and what they've done for Aaron's memory," Schuck says.
During the episode, Mike Merizio also touches on how being aware of that tragic day can be important for the newer generations of Seton Hall students: "Fire safety just in general I think is such an important issue, it's something that we don't necessarily think about on a day-to-day basis...it's very important to always know your surroundings no matter where you are or what you're doing."
Brother Greg mentions in the show that the Aspiring Kindness Foundation has raised over $275,000. Those efforts have helped finance the Aspiring Kindness Foundation Scholarship to benefit first responders and other different causes and organizations. Proceeds from this event have been used to support Seton Hall University Scholarships for student first responders, Seton Hall University's Housing & Residence Life Department, Seton Hall University's Health and Counseling Services, and new uniforms to the South Orange Rescue Squad.
Tarantino also talks about the more recent donations and grants the foundation has given. "Last year we granted $20,000 to commemorate the 20th anniversary and we provided a $5,000 grant to the South Orange Fire Department, the South Orange Rescue Squad, St. Barnabas Burn Center, and the South Orange Police Department. So, all the main first responders to the Boland Hall fire." Tarantino mentions current students have benefited from Aspiring Kindness as well: "We've continued to make additional donations, including Seton Hall University, where they've used the money for a commemorative first responder and nursing-based memorial scholarship."
Seton Hall has also received many grants from the organization totaling almost $95,000. The Counseling and Psychological Services (CAPS) has received $60,000 in three different grants for new equipment and to help put on programs, including a suicide prevention campus exhibition. The following year in October of 2015 another $20,000 was given to the Housing and Residence Life Department which was used for the largest campus-wide emergency exercise and other fire prevention programs.
For the golf event this year, Aspiring Kindness has a goal to raise $25,000 to uphold their mission statement of providing financial assistance to support and enhance the abilities of emergency responders and service providers.
All golf participants will be entitled to a round of golf with cart, use of the practice facilities including the driving range, breakfast, lunch, beer & drinks in coolers throughout the course as well as a beverage cart, and an Aspiring Kindness Foundation memorabilia gift. The golf outing this year will be modified to meet CDC guidelines regarding the pandemic and as a result, the dinner this year has been cancelled, with plans to bring it back next year in 2022. To accommodate this, the entry fee has been decreased to $200 for an individual golfer and it's $800 for a foursome.
Anyone interested in attending the golf outing can register here.
WSOU 89.5 FM, which began broadcasting in 1948, is the student-run radio station of Seton Hall University. Celebrated for its loud rock format and coverage of Seton Hall athletics, WSOU's signal reaches all five boroughs of New York City and much of northern and central New Jersey, and is available on iHeartRadio. WSOU was the 2016 winner of the National Broadcasters Association's Marconi Award for Noncommercial Station of the Year. More information about the station can be found online at www.wsou.net and www.facebook.com/WSOUFM. For more information on this episode, contact program host Brother Greg Cellini at greglcellini@yahoo.com or WSOU general manager Mark Maben at mark.maben@shu.edu.
Categories: Arts and Culture , Faith and Service