Work produced by students in the Art, Design and Interactive Multimedia program.
At the start of the Fall semester, the College of Communication and the Arts' Arts Council announced an expansive line-up of events for the 2019-20 season, featuring musical performances, student theatre productions, art exhibitions, a student film festival and more. As the COVID-19 pandemic took hold, some of those events were postponed, but thanks to the dedication of faculty members in the Art, Design and Interactive Multimedia program, the 16th Annual Student Art and Design Exhibit transitioned to an online format, allowing visitors to experience the exhibit in a whole new way.
Traditionally held every spring in Seton Hall's stately Walsh Gallery, the 16th Annual Undergraduate Fine Arts Juried Selections showcases the stellar work produced by students throughout the academic year in the Fine and Digital Art, Graphic Design and Advertising, and Interactive Multimedia tracks of program. Transitioning to a digital platform known simply as "the_space", the newly dubbed Virtual Art and Design Student Exhibition features all the art online in stunning high-resolution. It showcases everything from paintings, sketches, and digital product designs, to animations, interactive videos, and artistic photography. Dean of the College, Deirdre Yates, expressed pride in the students' work, saying, "As always, talent abounds in the College of Communication and the Arts and our students make us so proud. This online platform allows those far and wide to enjoy these pieces and our student artists excelled in creating a meaningful and moving exhibit."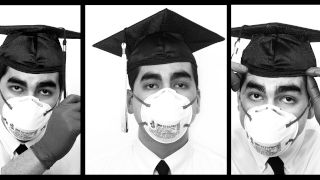 Photo by Andrew Cates, Class of 2020.
Students whose art had been selected for the exhibition are thrilled that their hard work can now be seen and shared online. With everyone confined to their homes, this virtual exhibition provides heightened exposure for students, allowing them to share their work with family, friends, and even potential clients and employers.
Christine Krus, Professor of Art and Design, and Christine Lhowe, Assistant Professor of Art, Design and Interactive Multimedia, were pleased with the students' dedication to producing the exhibit. Krus states, "The evolution of Art and Design's exhibition to a digital platform honors the foundation on which it was conceptualized 16 years ago. We're delighted to foster a sense of community and showcase the many talents of our students through 'the_space'."
View the online exhibit by visiting "the_space."
Update on Other Spring Arts Council Events
While this extraordinary event was able to successfully transition to a digital platform, other events from the Arts Council's Jazz 'n the Hall Series, Classical Concert Series, Poetry-in-the-Round and SHU Theatre productions that rely on intimate venues and lively audiences have been postponed. We look forward to welcoming everyone back to our historic South Orange Campus, as well as other local venues such as the South Orange Performing Arts Center, and The Woodland once it is safe to do so. Below is list of Spring events that have moved to future yet to be determined dates that you can look forward to attending once we can all safely reunite:
The Formosa Quartet at SOPAC
Jazz Meets Broadway at SOPAC
Seton Hall Selects at the SOMA Film Festival
SHU Theatre presents Summer of '42" at SOPAC
SHU Faculty Jazz Ensemble at SOPAC
For more on the College of Communication and the Arts' Arts Council »
Categories: Arts and Culture