Thursday, October 14, 2021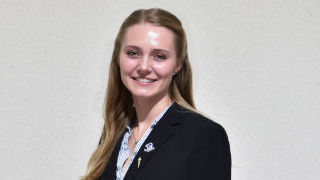 Madison Vance, an undergraduate Public Relations major, received multiple accolades this summer before starting her last semester at Seton Hall. Vance is a recipient of the Future PR Professional of the Year Award from the Public Relations Society of America (PRSA) New Jersey Chapter and the John D. Graham Scholarship from the PRSA Foundation. 
The Future PR Professional of the Year Award honors an undergraduate student who demonstrates an understanding of and commitment to the public relations profession. As a recipient of this award, Vance exemplified outstanding leadership, innovation and creativity in her submission.
"She excels in her responsibilities, remains focused and on target under deadline situations — many sensitive and multi-faceted — while endearing herself to students, administrators, faculty and alumni, as well as reporters and editors she regularly interacts with as a member of the media relations team in the Division of University Relations," shared Laurie Pine, director of Media Relations for Seton Hall and supervisor to Vance as a student publicist in the Office of Media Relations.
From Encinitas, California, Vance had been interested in journalism in high school, but upon attending Seton Hall, she realized that the public relations major in the College of Communications and the Arts was the best fit for her. Since freshman year, Vance attended PRSSA meetings and jumped right into the world of public relations. 
PRSSA is a student division of the Public Relations Society of America, the national professional organization serving the communications community. Vance said that PRSSA has been crucial to her growth as a young professional and has helped her augment her studies in public relations.
Kathryn Lancioni, M.S., instructor of Public Relations in the College of Communications and the Arts and faculty advisor to Seton Hall's PRSSA chapter, has worked with Vance for the three years and her excitement over Vance's success. 
"She has been a student in my public relations classes, an invaluable member of PRSSA and on the University's Bateman PR national competition team," said Lancioni. "Her enthusiasm, passion and dedication to her studies are exceptional." Vance's involvement in the Bateman PR national competition team is  notable, as members are required to have a GPA of over 3.5 to join. 
Vance's involvement with PRSSA also helped her earn the John D. Graham Scholarship. This award from the PRSA Foundation is an exclusive honor awarded to only three recipients. Vance's experience in the public relations program along with her current position as a student worker within the University's Office of Media Relations has contributed to this honor.
"Madison is a savvy media relations work-study student whose ongoing contributions have helped to elevate the profile of Seton Hall University," said Pine. "She consistently demonstrates a superior public relations and marketing skill set, often serving as a student leader and mentor, enhancing the development of her peer communications students through her conscientiousness, talent and teamwork."
Applying the skills learned in the PR program to other aspect of her life, Vance was also recognized by her sorority, Alpha Omicron Pi. Having served as Vice President of Communication from November 2019 to 2020, her efforts were recognized by an Excellence in Communication Award. Presented at the international conference this summer, this award acknowledges the chapter's efforts throughout 2020.
In her final semester, Vance is serving as the University's chapter president for PRSSA. Lancioni commented, "I am delighted she agreed to take on this role at such a critical time. She is a true professional and will take Seton Hall's PRSSA chapter to the next level. I can't wait to see where her focus, intelligence and passion take her once she leaves The Hall."
About the College of Communication and the Arts
The College currently offers graduate-level programs in Museum Professions and Communication, including the opportunity to pursue a unique area of study, including options in Public Relations, Digital Communication/Communication Technologies, and Communication in Organizations. In addition, four dual-degree options, including three accelerated master's/B.A. programs and a dual M.A. degree with the School of Diplomacy and International Relations are offered.
For more information about Graduate Studies within the College of Communication and the Arts, please contact Dr. Ryan Hudes.
Categories: Arts and Culture