Hearing the words "a college degree will open doors for you" is not uncommon for students pursuing their dreams. Ray Navarrete '16, recently began a new journey toward success after completing his B.A. in Communication – a journey that took over twenty years to complete.
A former-student athlete, the New Jersey native echoed the personality of a typical, Seton Hall baseball player: he loved baseball with a passion, dreamed of playing professionally and wanted to study something he loved. From 1996 to 2000, he studied Communication, knowing he could learn a multitude of abilities and skills that would directly apply to his future.
Former Long Island Ducks player, Navarrete spent 14 years on the baseball field before finishing his B.A. in Communication in May 2016.
In early 2000, Navarrete's studies were postponed when he was signed by the Pittsburgh Pirates, a Major League Baseball organization. For the next fourteen years, Navarrete graced the fields of many baseball organizations including the Pittsburgh Pirates, Houston Astros, New York Mets and finally, the Long Island Ducks who famously retired his No. 16 jersey. With an incredible career behind him, Navarrete turned his attention toward his next dream: finishing his degree.
Two years after his final game, Navarrete was welcomed back into the College of Communication and the Arts with only a few credits needed to graduate. In May 2016, he earned his long-awaited diploma, which opened the doors to a full-time commitment to Digmi, his lifestyle fashion brand. "I always knew I would return for my degree," Navarrete said. "Communication and writing skills are priceless, especially as you grow a company. They are valued and applicable in any field and learning how to write quality content is important."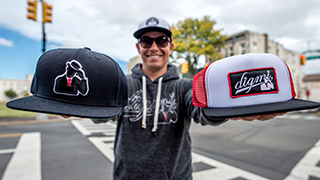 Navarrete pictured with Digmi, his lifestyle fashion brand, which has recently hit the shelves of Bloomingdales, Tillys and Lids.
Navarrete is both Digmi's chief executive officer (CEO) and chief creative officer; he oversees the business' daily operations and manages accounts with national retailers as well as establishing relationships with professional athletes and celebrities. Today, he applies the skills he learned in the classroom while building his brand, growing business relationships, and producing relatable, inspiring content. This includes editing TipYourCap.com, Digmi's blog dedicated to highlighting player stories and accomplishments.
"I serve as the editor-in-chief for TipYourCap.com, and that's in part because of Publications Editing, a journalism course I took," shared Navarrete. "I'm thankful for the skills I learned since I'm able to write headlines and synthesize information for a better flow. I use these skills every day as I proofread our posts, establish flow and ensure content is digestible for our audience."
With Navarrete at the forefront, Digmi continues to grow and the brand looks forward to opening its own doors to success and accomplishment. Recently, its products have entered the shelves of multiple national retailers including Bloomingdales, Tillys and Lids, with more opportunities to come.
"We want to inspire, motivate, and embrace our customers. Our messaging and brand is based on it," said Navarrete. "From our mantra of 'Live Dream Be' to the way we connect with our customers, it's all about the communication."
Learn more about Ray Navarrete or Digmi by visiting the brand's website here.
For more information on our Communication program, contact Associate Dean Thomas Rondinella.
The author of this feature, Olivia Lason, is a Public Relations alum from the College of Communication and the Arts, currently working toward an M.A. in Public Relations.