The College of Communication and the Arts announced the recipient of the PR Impact Award for distinguished program alumni and honored graduates of its public relations program at the annual Points of PRide ceremony on May 6.
Celebrating the strong alumni network and the accomplishments of students as future professionals, Points of PRide in past years has provided opportunities for introducing alumni to students by facilitating conversation and potential employment connections. In in this years' virtual setting, the value for the student and alumni connection was still clear.
"What our students have done, what our alumni have done, what our faculty and administration have done and what we have done together as a community is impressive and I'd like to take a moment to simply say thank you to each and every one of you for your hard work and dedication," said Renee Robinson, Ph.D., professor of communication and department chair.
Robinson presented the PR Impact award to Rosemary Mercedes '99/M.A. '02. This award is conferred annually to a program alum who has demonstrated exemplary service to the public relations profession and the Seton Hall community.
Mercedes served as the chief communication officer of Univision Communications Inc., the leading Hispanic media company in the U.S. and the owner of the top entertainment sports and news media platform for U.S. Hispanics. Her many accolades include being named Pioneer of the Year by the Hispanic Public Relations Association, being recognized as the top woman of in public relations by PR News and being featured as one of the top PR professionals under 40 in the U.S. by PR Week. Mercedes also mentors undergraduate students through the Communication Honors Alumni Mentor Partner Program.
"As I reflected on my journey in preparation for this evening and what pearls of wisdom can I impart, it was clear to me that my career success is underpinned by the foundation and grounding I was lucky to gain at Seton Hall," Mercedes said.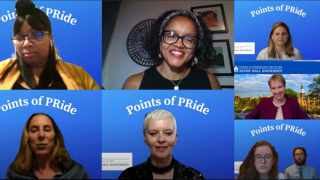 Rosemary Mercedes '99/M.A. '02 (pictured in the center of the top row) accepted the PR Impact Award at Points of PRide.
She shared four key takeaways in her address: rethink your limitations, be courageous, have fun on the jungle gym and stay curious by being a student for life. To listen to her full speech, view the live recording of the event here.
Instructors Kathryn Lancioni, M.A., and McKenna Schray, Ph.D., recognized the 2020 and 2021 graduates and invited them to don their honor cords when called. The students honored included:
Ailish Erwin
Ava Manganiello
Danny Guerra (2020)
David Moser
Emily High (2020)
Isabella Fiorello
Jasmine Parker (2020)
Kassidy Kelly
Liam Oakes
Madelyn Nichols
Marianna Delacqua
Melanie Moore
Michael Gallucci
Michael Pacheco
Sarah Culmone
Sihong "Leo" Wu
Tayla Frey (2020)
Taylor Westfall
Timothy Guerrero
Zachary Nichol
"Take this moment and reflect on your successes and the opportunities you have found. Recognize that although this journey is coming to an end, your next journey is just around the corner," Schray said.
At the event, the program's student teams which competed in the PRSSA Bateman Case Study Competition presented a synopsis of their work. This premier national case study competition provides students an opportunity to apply their classroom education and internship experiences to create and implement a full public relations campaign. This year's competition tasked students to build a campaign to help reverse the corrosion of civility in public discourse.
Senior Sihong "Leo" Wu presented for team Act in Civility, which consisted of team members seniors Mariana Delacqua, Sarah Culmone and Melanie Moore. He shared about their approach to the campaign and the use of weekly newsletters, a guidebook with best practices, placements on Pirate-TV and an interview series to accomplish their goals.
Seniors Madelyn Nichols and Liam Oakes presented for the Project Civility Stability team, using their presentation to walk through their research, planning, implementation and evaluation of their campaign. These students highlighted the success of a training session for student organization leaders and the social media campaign used as key tactics in their campaign. Seniors Taylor Westfall and Madison Vance were also members of this team.
The event was hosted in collaboration with University Advancement's Office of Alumni Engagement & Philanthropy. To learn more about the public relations program, which was named to PRNEWS' 2021 Education A-list, click here.
Categories: Alumni , Arts and Culture , Business , Education