The Stillman School of Business and College of Communication and the Arts are pleased to announce a Sports Business and Media Ethics Symposium featuring Adam Silver, J.D., Commissioner of the National Basketball Association (NBA) and other industry leaders on Tuesday, April 2.
Bringing together experienced professionals within the sports industry, the symposium will focus the intersection of sports business and media by interweaving sessions about topics such as ethics, gambling, amateurism and more. ESPN's Bob Ley '76, host of "Outside the Lines," and Stephen A. Smith, featured commentator on "First Take", will also join the conversation, offering different perspectives from their careers in the sports and broadcasting fields.
"Open conversation is key to a well-rounded dialogue, and the symposium is an opportunity to bring the Seton Hall community together to talk about the big, pressing issues in the sports industry. [NBA Commissioner] Adam Silver's one-on-one interview with Professor Charles Grantham will tackle how to navigate back and forth between business and the media, setting the tone for an afternoon that will captivate attendees from every field," said B.J. Schecter, Professional-in-Residence in the College of Communication and the Arts.
About the Speakers:

Adam Silver, J.D., is the Commissioner of the National Basketball Association (NBA) presiding over a global and sports media business built around four professional sports leagues: the NBA, the Women's NBA, NBA G League and NBA 2K League. He has been twice ranked No. 1 on Sports Business Journal's annual list of the 50 Most Influential People in Sports Business and was named to TIME's 100 Most Influential People, Fortune's World's 50 Greatest Leaders, and The Bloomberg 50, Bloomberg Businessweek's list of 50 people who defined global business.
Bob Ley '76 is ESPN's longest-serving commentator and spearheads the network's aggressive coverage of breaking news and issues primarily as the host of "Outside the Lines," which focuses on issues beyond the playing field. The show has been honored with multiple awards over the years including 11 Sports Emmys, a DuPont Award and a Peabody Award. He was recognized with the Sports Emmy for outstanding studio host in May 2018. Currently on a 6-month sabbatical from ESPN, Ley was recently inducted to the National Sports Media Association Hall of Fame.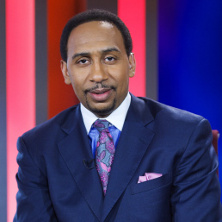 Stephen A. Smith is a featured commentator on ESPN's "First Take," a podcast which discusses and debates the sports topics of the day. Smith hosts a variety of ESPN radio programs including "The Stephen A. Smith" show and several "SportsCenter" specials throughout the year. Outside of his work with ESPN, Smith also hosted a morning show on Fox Sports Radio, worked as sports columnist for the Philadelphia Inquirer, and wrote for the Winston-Salem Journal, the Greensboro News and Record and the New York Daily News.
For those who have registered, the event is Tuesday, April 2, 2019 from noon to 5 p.m. in Bethany Hall.
Categories: Business