Wednesday, October 31, 2018
Fortune 500 companies are known for their impressive impact and extensive international reach, aspects which certainly can be daunting to recent graduates -- but, not for Jade Latson '17/M.A. '18. The College of Communication and the Arts alumna recently welcomed the challenge, beginning the first chapter of her career with financial service corporation Mastercard as an associate analyst.
A graduate of the College's dual-degree B.A./M.A. in Public Relations program, Latson manages internal and external marketing and communications for Mastercard Labs, the company's research and development division dedicated to driving technological innovation within the consumer and payments industries. As a member of Labs' marketing team, she applies the critical thinking and strategic mindset nurtured through her public relations background to create informative content, evaluate programming, and represent the brand on an international level.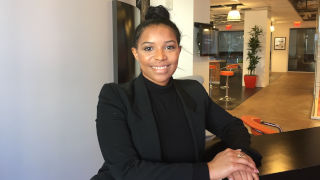 "My team's projects require a great deal of research, planning, implementation, and evaluation (RPIE), a public relations model I learned as an undergraduate student," said Latson. "When creating global solutions, you need to continuously analyze and identify what succeeded and what failed. That's the key to driving innovation and growing as an organization, which is rooted in the foundational principles of public relations."
Latson chose to concentrate in Public Relations because of the array of practice areas and creative opportunities available in the field. Today, she implements a wide range of nuanced ideas and strategic decisions from managing Mastercard's brand, to planning an event and even creating excitement around a product.
While her undergraduate studies exposed Latson to the versatility and scope of a public relations degree, she credits the graduate program for refining her capability to apply research and facts to substantiate her ideas. "I learned to always be curious, prepared, well-researched and knowledgeable about a subject, which in turn increased my confidence and expertise – skills highly valued in a workplace," noted Latson.
As part of her graduate coursework, Latson developed a nine-month long thesis project aligned with her interest in intercultural communication. Her project specifically examined how undergraduate public relations programs prioritize intercultural communication competence pedagogy. In her present role, she applies this research into her professional work when interacting with international visitors, making sure to be respectful and address key technology features relevant to their interests.
The Kansas City, Missouri native also emphasized the impact of extracurricular activities and dedicated faculty members on her professional development. "Without programs like the Communication Honors Alumni Mentorship Program (CHAMP) and the Black Student Union (BSU), I wouldn't have met mentors like Dr. Kristen Koehler – who helped me build my writing confidence in and encouraged me to present at communication conferences – or my CHAMP mentor, Ernie Knewitz of Johnson & Johnson, who is always generous in sharing career advice," explained Latson.
Beyond the classroom, Latson was actively involved in several organizations. She served as the director of Seton Hall's student-run public relations firm, the Litore Agency – she actually coined the firm's name, stemming from the Latin word litore, or shore. "Litore was the perfect symbol for an agency that stays close to its values and mission—its shore—but also keeps an eye on the horizon for what is to come," said Latson.
She was also an active member in Seton Hall's Public Relations Student Society of America (PRSSA) chapter, CHAMP and the Black Student Union (BSU). In fact, Latson was first introduced to Mastercard at a BSU conference. This ultimately led to an internship with the company's North America Communications team, exposing the aspiring practitioner to the diligence and strategy needed to produce content for the Fortune 500 corporation.
"All of my experiences at Seton Hall bolstered the professional I am today, but the extracurricular activities introduced me to the subtle and polished characteristics needed of successful communication professionals," said Latson.
But, her first-hand exposure to the industry was not the only influence the College imprinted on her career. Latson also pointed out the tremendous impact of relationship-building on her time at Seton Hall. "I gained mentors, made friends, and acquired a transferable skillset paved through a journey of education, mentorship and trial-and-error." said Latson. "I began as a hesitant learner and matured into a self-assured, hardworking version of myself with the help of the College of Communication and the Arts."
For more information about the Public Relations program, please contact Dr. Kristen Koehler at kristen.koehler@shu.edu. For more information about Graduate Studies within the College of Communication and the Arts, please contact Dr. Ryan Hudes at ryan.hudes@shu.edu.
The author of this feature, Olivia Lason, is a Public Relations alum from the College of Communication and the Arts, currently working toward an M.A. in Public Relations.
Categories: Alumni