Thursday, November 16, 2017
Priolo coordinating a mission with WFP colleagues from Western African Countries in Dakar, Senegal.
Anthony Priolo '13 begins his day dedicated to tackling one issue: fighting hunger worldwide. For over two years and counting, Priolo has supported the World Food Programme (WFP), the world's largest humanitarian organization committed to ending hunger by achieving food security and improved nutrition. Working in Rome, this Visual and Sound Media alum applies his skills as a communication specialist to develop informative, visual materials that are distributed internally to WFP colleagues worldwide.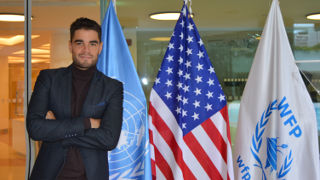 Priolo at the United Nations World Food Programme Headquarters in Rome.
While working for an organization that serves over 80 million people each year may seem intimidating, Priolo knows the work he produces is not only impactful, but also comprehensive. As a student, Priolo was able to concentrate his studies in broadcasting and production while simultaneously exploring other areas of interest ranging from graphic design to advertising. In fact, one of Priolo's first projects with WFP directly called his graphic design knowledge to action – he created and distributed a single, internal visual that all colleagues could understand and appreciate, regardless of language and background.
Priolo and WFP colleagues flying in a C30 plane with the Italian Army.
Today, Priolo works as part of WFP's Business Development and Cash-Based Transfers Branch (CBT), a program that brings food to people in need by providing cards with funds that can be used to purchase goods. Priolo motivates his global WFP cohorts in their daily work, developing communication packages to directly impact the business.
"My job is to make sure our internal colleagues understand their desk work enables us to bring food and funds to the people we serve, the people who are furthest behind in the world," said Priolo. This past year, Priolo traveled to Bangkok, Thailand and Dakar, Senegal to support colleagues in WFP's Finance function, coordinating and developing presentations, interviewing high-level directors and connecting colleagues with information on current WFP projects underway.
Linking his academics to the business world, Priolo talks about his Seton Hall background to his colleagues, who come from nearly all seven continents. "When I tell my colleagues I produced videos in an actual TV production studio, they almost don't believe it," highlights Priolo. "They ask me: You actually had a studio? I go on to tell them of course… we also had a full design lab, photography, gym, etc. They are shocked."
Priolo loves representing Seton Hall across the world, especially since he is using his education from the College of Communication and the Arts to make the world a better place. The College's programming and flexibility gave him more than just the tools he needed to succeed: "It instilled within me a confidence that pushes me to do anything I want if I set my mind to it."
The author of this feature, Olivia Lason, is a Public Relations undergraduate alum from the College of Communication and the Arts, currently working toward a M.A. in Public Relations.
Categories: Alumni , Arts and Culture