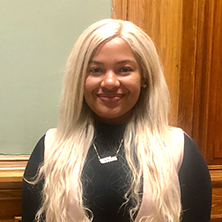 Kia Deadwyler, a student pursing an M.A. in Public Relations within the College of Communication and the Arts, loves her job as the aid to Jersey City councilwoman Joyce Watterman — but she dreams of becoming a music publicist. So when Deadwyler decided to enroll in graduate school, she searched for a program that would provide her with the opportunity to immerse herself in public relations while also preparing her for the field. And after attending Seton Hall for the past year, she knows she made the right choice.
Deadwyler particularly appreciates the fact that the College incorporates a master's project into its graduate programs – something that not every school requires. She explained that the research the project entails allowed her to delve deeply into the available public relations literature, opening her eyes to ideas she would not have come across otherwise. As a result, Deadwyler feels all the time and effort she has put into the project have been worthwhile.
"As I drafted my lit review and reflected on all that I've learned just from that chapter, I said to myself 'If I had to go back, I would (pick Seton Hall) again,'" Deadwyler said. "Master's project is definitely preparing me. I feel like when I graduate in May, I will be able to take on the industry."
She also hopes to provide new insight into music publicity through her culminating project, which explores how social media influencers build their followings. Specifically, the project involves a content analysis of posts to better understand what strategies influencers use to connect with fans and gain attention for themselves. In the end, Deadwyler intends to create a list of best practices that musicians and their publicists could use to guide their online promotion efforts.
Such guidance is especially needed in the music industry, as Deadwyler knows. A close friend, Jay Watts — whose song "Watch Me Walk" was recently featured in the 2017 Power Rangers feature film — is signed to Republic Records, yet he and many rising performers like him are expected to handle their own publicity. This can be difficult for people with no public relations background, so she's helping by looking at social media influencers to learn how to build brands from scratch. Meanwhile, Deadwyler shared she gets invaluable guidance of her own from her Graduate Studies professors.
"Dr. Robinson is very interesting to me, very engaging — I can hear her talk for five hours and never find myself bored," Deadwyler said. "And Dr. Koehler made me fall in love with public relations. She definitely solidified why I'm in the public relations program."
The knowledge from the program has already helped Deadwyler in her role as a political aide, a job that involves many public relations-related responsibilities. She explained that learning about researching, relationship building and distinguishing key publics assists her when working with Watterman to craft messages and responding to residents' complaints and concerns. It also guides her when planning events.
"When helping with events, I ask myself, 'How can I get the most people here? Who is the audience? Who should I target?'" Deadwyler said. "That's something that always comes up in public relations, so I have to do my research. 'Who would best benefit from this? Who would want to participate in something like this?'" So, I definitely see my public relations education coming up in my work."
After graduating, Deadwyler hopes to put her education and experience to use as a freelance publicist. Ultimately, she would like to work for a record label before eventually opening her own firm promoting rising artists. And with the foundation of knowledge Seton Hall has provided her, she is confident she will be successful.
The College currently offers three Master's-level programs, including Museum Professions, Strategic Communication, and Public Relations. In addition, four dual-degree options, including three accelerated B.A./M.A. programs and a dual M.A. degree with the School of Diplomacy and International Relations are offered.
For more information about Graduate Studies within the College of Communication and the Arts, please contact Ryan Hudes, Ph.D.
This story is part of a series highlighting why students selected the M.A. in Public Relations program.
Categories: Education