Saturday, November 17, 2018
Bob Ley, Dean Deirdre Yates, B.J. Schecter and students in the College of Communication and the Arts' television studio, following the master class
At the front of a full classroom, ESPN's Bob Ley ('76) stood and looked out at the faces of 30 students who were invited to participate in his first Master Class at Seton Hall. It was a captive audience filled with College of Communication and the Arts Journalism majors, Sports Media minors, WSOU news reporters and students from the Stillman School of Business Sports Marketing program.
The class, "Sports Journalism and Its Challenges," was an intimate and engaging discussion amongst the students, faculty and Ley.
For 75 minutes, a lively and engaging dialogue focused on key industry challenges. How do sports journalists decide what to cover? How do sports journalists balance the push-pull between stories and networks? Whose interests are journalists responsible for protecting? In news outlets, how are the roles of editorial and programming defined? And, who has the final say in what airs?
Ley's style of turning real-life experiences into industry lessons is nothing short of captivating. Students listened intently as Ley described his 2010 weeks-long stay in South Africa when ESPN covered the World Cup. Ley spoke of a live broadcast interrupted by tense protestors, followed by a personal meeting and interview with Archbishop Desmond Tutu – an experience Ley recalled as "astonishing." Ley recalled candidly the challenges in reporting on sensitive and controversial news, such as the case against USA Gymnastics physician Larry Nassar.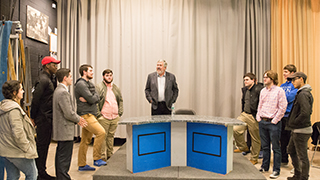 Bob Ley chats with students after the master class.
A robust discussion transpired on the ways social media has altered the nature of journalism. Social media, according to Ley, has changed the relationship between reporters and editors by removing the vetting step. A journalist expressing an immediate opinion can sometimes interfere with the reporting of facts.
Discussing the use of Twitter specifically, Ley earned both laughter and cringes, saying, "When President Donald J. Trump is tweeting about your company before you've had your second cup of coffee, you know it's going to be a long day." Ley had some key pieces of advice for students:
Never underestimate the importance of humanizing content. Stories are made of sympathetic characters.
When it comes to media platforms, get familiar with all of them. Run your content on as many platforms as possible.
Prepare yourself. It is of the utmost importance to be prepared with historical context when you're interviewing someone, and/or traveling to another country to cover news.
Bob Ley chats with students after the master class.
Participating students were thrilled for the opportunity to listen and engage in discussion with the sports media icon. Journalism and Finance major and WSOU news director Bob Towey said, "I really appreciated Mr. Ley's willingness to return to Seton Hall and teach the master class, and I admired the way he turned his lessons into a dialogue between himself and the students. At WSOU News, I've been trying to integrate more sports news into the department's broadcasts, and getting Mr. Ley's opinion on ways to advance our coverage of sports related storylines was very pragmatic and valuable. It was also interesting to hear his perspective on the ways college media has changed and stayed the same since his days at Seton Hall."
Along with about 10 lucky students, Ley was accompanied by College of Communication and the Arts' Dean Deirdre Yates, Associate Dean Thomas Rondinella, and Professional-in-Residence B.J. Schecter on a tour of the College's television station following the master class. Dean Yates expressed her gratitude, praising Ley on lending his time and expertise to Seton Hall students. "We couldn't be more excited and grateful that Bob led us on this remarkable journey today," she said. "We are both proud of his illustrious career that began right here at WSOU, and forever indebted to him for the continued support and attention he pays back to our College and students."
Christopher Russo, a junior Visual and Sound Media major and Sports Media minor expressed his excitement following the class. Russo said, "It was an absolute honor to learn from one of Seton Hall's most successful alumni, and maybe the most successful within broadcasting journalism here. It was incredible to go in-depth on a wide variety of topics in the sports world with someone with such credibility, and take so much knowledge from a true seasoned sports journalist." Dalton Allison, a Visual and Sound Media major, Sports Media minor and Assistant Sports Director at WSOU, couldn't have been more appreciative of the opportunity to be in the class. "Hearing Bob Ley speak was amazing," he said. "For someone like me, who is interested in the intersection of news and sports, the experience of listening to what Bob Ley had to say was something you could never put a price on."
Ley has won multiple Emmy awards for sports journalism and his trailblazing work on ESPN. Ley graduated from Seton Hall University magna cum laude with a B.A. in communication, and is member of the WSOU Hall of Fame.
Categories: Arts and Culture
---
ESPN's Bob Ley '76 Teaches Master Class