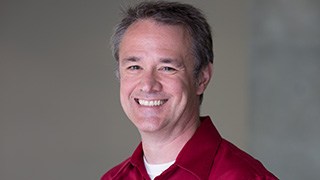 Each year, the University awards the title of Researcher of the Year to nominated outstanding full-time and adjunct professors from each school and college. The College of Communication and the Arts 2021 nominee, Associate Professor Jon Radwan, Ph.D., was awarded this honor for his diligence toward conducting honest, relevant and collaborative research projects throughout his career.
Radwan earned a B.A. in Communication from the University of New Hampshire, an M.A. in Communication Studies from Northern Illinois University and a Ph.D. in Speech Communication from Penn State University. His teaching and research focus on the intersection of Rhetoric and Religion, examining how ancient traditions influence contemporary public discourse. Radwan teaches multiple courses in the College, and also coordinates, attends and presents at multiple national and international academic conferences.
"Research is different from other work in that it also requires extensive disciplinary training, and each field has its own research methodologies to learn," said Radwan. "Earning a Ph.D. takes a minimum of three or four years because advanced research skills are complex and take time and repeated practice to hone."
According to the College's Dean Deirdre Yates, "A researcher possesses a natural curiosity, thirst for knowledge and enjoys delving deeply into a topic. A good researcher is devoted to truth-seeking and the sharing of information for the betterment of society." Radwan, who also serves as the director for the Institute for Communication and Religion (ICR), similarly believes that a research requires time, energy, focus and persistence. "Developing a clear research agenda and calendar and then following through on each step in each project is essential. In addition, the scholarly review process is very rigorous so researchers need to develop humility and an ability to deal with rejection productively," he said.
Additionally, Radwan emphasizes the need for collaboration in research projects. "One of my goals is to explore the intersection between Communication and Religion, and the ICR is a wonderful unit for this purpose. Our steering committee brings together University leaders from within the College, as well as other disciplines including Catholic Studies, Religious Studies, and Theology, providing excellent opportunities to develop collaborative work," Radwan stated. In a recent project that sought to convey how Hindu principles can improve business practices, collaborating with researchers outside of the communication field like AD Amar, Ph.D., a Management Professor in the Stillman School of Businessan and an expert in Hindu spirituality in Management., opened the project up to deeper understandings and different perspectives. In a more recent publication that is currently under review with the Journal of Media and Religion, Radwan similarly collaborated with Benjamin Giffone, Ph.D., who heads LCCIU's Center for Faith and Human Flourishing, to research the use of YouTube in spreading religious criticisms and beliefs.
Researcher of the Year award winners are determined after reviewing recommendations from Department Chairs, College Deans and a University panel. According to Dean Yates, "Dr. Radwan has worked very diligently on his research portfolio, particularly with regard to his role as Director of the Institute for Communication and Religion, and recently received positive recognition for his accomplishments in his field." In response to winning this prestigious award, Radwan stated that his win does not exist in isolation, but in a chain of previous recipients. "Honestly, it is a little surprising," Radwan admitted. "I work hard so it's nice for that to be recognized, but there are many other faculty in the College with excellent research records. Past winners of this award have written books, while I have 'only' been producing presentations, book chapters and articles."
Radwan added, "I am honored that our administrators consider my work comparable to that of our many fine colleagues and am happy to direct the positive energy from formal recognition into my next project."