Thursday, November 18, 2021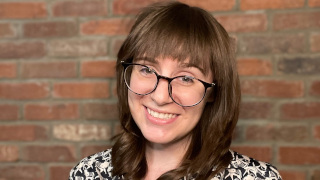 Sophia Hudzik
The College of Communication and the Arts awarded a research fellowship to Sophia Hudzik, a graduate candidate within the Museum Professions program. This fellowship was founded in 2019 by Renee Robinson, Ph.D. and Ryan Hudes, Ph.D., who envisioned this fellowship as one that represents the continued evolution and innovation of the College's graduate studies program portfolio. The fellowship affords prospective and current students the opportunity to explore research outside of the classroom and collaborate with a graduate faculty member to pursue topics of interest.
A second-year Museum Professions student and practicing museum educator since 2016, Hudzik's background is in anthropology and public archaeology. "In the program, I hope to sharpen my writing skills and learn more about exhibition and experience design, with the intention of returning to research based practices like oral history and other types of field work to inform my museum career," she said.
Hudzik works closely with Ruth Tsuria, Ph.D., director of the M.A. in Communication program, and James Kimble, Ph.D., professor of communication, on various research projects. Kimble remarked on Sophia's efforts, which involve the launch of a new academic journal called Home Front Studies. "So far, Sophia has been researching possible manuscript reviewers and before too long, I'll ask her to shift over to creating profiles for the editorial board reviewers in the journal's online interface," said Kimble. "Sophia has quickly proven herself a diligent, conscientious worker who is enthusiastic about the process of academic research and publishing. Her contributions to the new journal are already notable."
On the topic of her fellowship, which offers experiential learning opportunities with graduate faculty, Hudzik expressed her gratitude and hopes for the future. "Getting the opportunity to work with Drs. Kimble and Tsuria has been a great lesson in research project and data management," she said. "Plus, I get to learn about their specialties and how they have taken passion and affinity for their respective fields and turned it into a lifelong learning career."
Tsuria expressed her acclaim of Sophia. "As I am preparing to be the managing editor of the Journal for Religion, Culture, and Digital Culture, Sophia is helping the journal by building a database of scholars within the field of digital media, culture and religion. She used her critical thinking skills to craft the database categories, and her digital research skills to find information about the scholars and the connection between them."
The College of Communication and the Arts currently offers three Master's-level programs, including Museum Professions, Communication, and Public Relations. In addition, four dual-degree options, including three accelerated B.A./M.A. programs and a dual M.A. degree with the School of Diplomacy and International Relations are offered.
For more information about Graduate Studies within the College of Communication and the Arts, please contact Ryan Hudes Ph.D.
Categories: Arts and Culture , Education