On April 19, the College of Communication and the Arts will celebrate three distinguished honorees during its alumni signature event, Reflections and Celebrations. The College recognizes Associate Professor of Communications Patricia Kuchon, alumnus Emmanuel Vozos '07, and alumnus Bernie Wagenblast '78 for their dedication to the university and, more specifically, the college.
Unique to Communication and the Arts, Reflections and Celebrations examines the past and looks toward the future. It honors those who have strengthened their intellectual curiosity and passion while guiding the vision and development of the college.
"This year's honorees embody strong character, integrity, and personal successes," said Deirdre Yates, dean of the college. "They are remarkable as both industry leaders and as role models to our students. We are grateful for their service to both the College and the University."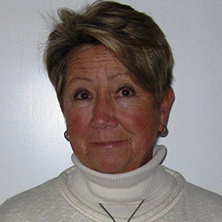 Patricia Kuchon, who will receive the Award of Distinction, has served the university for over 50 years as a full-time faculty member across multiple colleges including Communication and the Arts, Arts and Sciences, and Education and Human Services. She has been recognized with multiple awards for teaching by her peers, including being named "woman of the year." Her background in communication and psychology positions her as an expert in personal and interpersonal communication effectiveness, diversity and strategic leadership.
Distinguished alumni Vozos '07 and Wagenblast '78 lead the way in their respective industries with notable and distinct professional impact.
Emmanuel Vozos' portfolio includes work for TV productions such as Law & Order and The Good Wife, video and photography production as the director of digital media production for Kean University, and client support as the CEO of American Octopus LLC, a digital media company. He has recently expanded his work to include co-directing Liberty Hall 360, a 360-degree virtual reality experience in the historic Liberty Hall mansion in Union, N.J. Vozos supports his alma mater by connecting with the next generation of students in any way he can, including having taught a semester of TV II.
Bernie Wagenblast is one of the original shadow traffic reporters in 1979 as well as the voice on multiple stations such as WABC and 1010 Wins. Today, he is known as the voice of the New York City subway system and the AirTrain at JFK and Newark airports, among others. He has created his own business where he edits many transportation-related newsletters, hosts podcasts, and does voiceover work. He remains involved with the University as a member of the President's Advisory Group and the WSOU mentorship program.
Categories: Alumni , Arts and Culture , Nation and World